Many people on insulin for the treatment of diabetes try to save money on supplies, as daily injections of insulin, blood glucose testing strips, the glucose monitor and needles and syringes can be quite costly. Reusing insulin needles isn't recommended, as they are very fine and can blunt quite easily, making injections a bit more painful. While you can sterilize needles, consumers at home should know that doing so does not provide truly anti-bacterial protection, can dull the needle and destroy the internal integrity of the needle.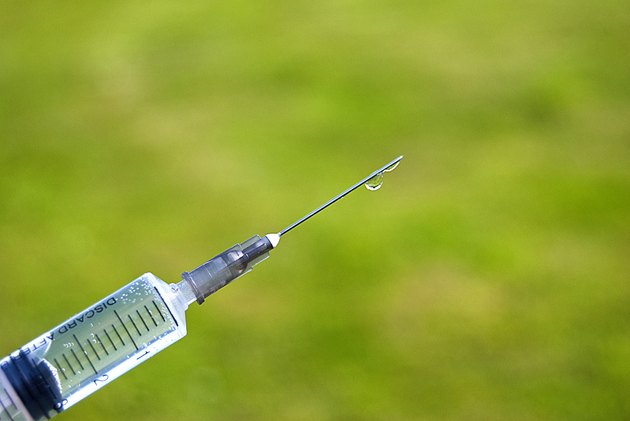 Step 1
Flame has long been believed to provide some protection against bacteria when it comes to sterilizing needles and other tools used in surgery over the centuries. While doing so may kill some of the bacteria found on the surface of a needle, it may not kill all of it, depending on your source of heat. However, if you hold the needle with tweezers, scissors or other tool over an open flame for approximately 15 to 30 seconds, you may kill some bacteria. Flame can be from a stove or a cigarette lighter, which will create a blackening of the needle due to chemical reactions of the metal to heat.
Step 2
Sterilize the needle with alcohol or bleach. Using a swab of cotton drenched in alcohol or bleach, swipe the needle through the cotton several times, taking care not to touch the tip of the needle and thereby destroying the sterile field before using. Or pour a small amount of alcohol or bleach into a clean, sterile glass and then drop the needle into the alcohol and allow to sit for about 15 seconds. You may also use alcohol wipes to sterilize the needle, taking care not to touch the pointed end of the needle prior to use.
Step 3
Boiling needles may provide better protection against bacteria, especially if the water reaches approximately 100 degrees Celcius (200 degrees Fahrenheit). This method will kill many bacteria, but is not guaranteed to kill all bacteria or viruses that may be present in the needle. Boiling for at least 30 minutes is recommended, while the CDC has stated that boiling for an hour may be permitted in locations or situations where modern sterilization equipment or technology is not available.