Cold sores are sores caused by the herpes simplex one and the herpes simplex two viruses. These sores are commonly found on the lips, nostrils, mouth and external genitalia. However, the herpes simplex viruses may also cause lesions anywhere on an individual's skin, including on the back of the neck.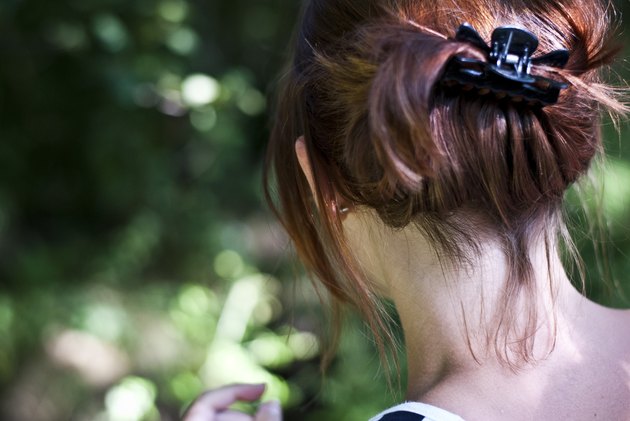 Viruses
The viruses that cause cold sores are found throughout every continent in the world. According to the American Public Health Association, more than half of the people in the United States have been exposed to one of the herpes viruses. Transmitted by contact with an open sore, the herpes virus causes fever, muscle pain, and fatigue. These symptoms last between three and 14 days. After these symptoms subside, painful white, fluid-filled bumps appear. The sores appear in the area where the virus entered the body.
Gladiator Herpes
Herpetic lesions found on the neck are a symptom of a condition known as gladiator herpes. The herpes viruses usually enter an individual's system through the mucous membrane of the mouth or genital tract. In the case of gladiator herpes, the viruses use damaged skin as a point of entry. If this point of entry is located on the back your neck, it is possible for sores to occur there. Just like any other herpes infection, the first outbreak of the sores is preceded by fever, muscle aches and fatigue. If left untreated, the sores resolve themselves in about two weeks.
Risk Groups
Gladiator herpes is common in people who are involved in sports such as wrestling, judo, kickboxing and other activities where close physical contact is required. Because these sports encourage physical closeness, participants often incur skin damage, leaving them open to infection. Athletes should avoid engaging in these activities while they have herpes sores.
Diagnosis
A physician will diagnose this condition by speaking with the patient and examining the sores. Samples may be taken from the sore to confirm the diagnosis. Herpetic sores on the back of the neck may be confused with a number of similar conditions, including chicken pox and acne. In these cases, laboratory analysis is used to confirm the diagnosis.
Treatment
The treatment of a herpetic sore on the neck is the same as any type of herpes. Non-steroidal anti-inflammatory medications, such as ibuprofen, are used to treat the general symptoms, such as fever and fatigue. This treatment is combined with the use of anti-viral drugs, such as acyclovir. A physician will prescribe the drugs for oral or topical administration.