Although there's still no cure for the common cold, the flu virus has proved vulnerable to attack with drugs. Antiviral drugs can shorten the length of the illness, reduce severity of symptoms and help avoid complications. There are 3 kinds of flu viruses -- A, B and C -- but only types A and B cause seasonal epidemics. Influenza type C causes few, if any, symptoms except for mild respiratory infections. The structure of influenza type A and B viruses differ, which influences how they respond to specific antiviral drugs. Two classes of prescription antiviral drugs, neuraminidase inhibitors (NAIs) and adamantanes, are available to treat and prevent influenza types A and B in both children and adults. Understanding how antiviral drugs work may help you decide whether it's appropriate to seek antiviral treatment.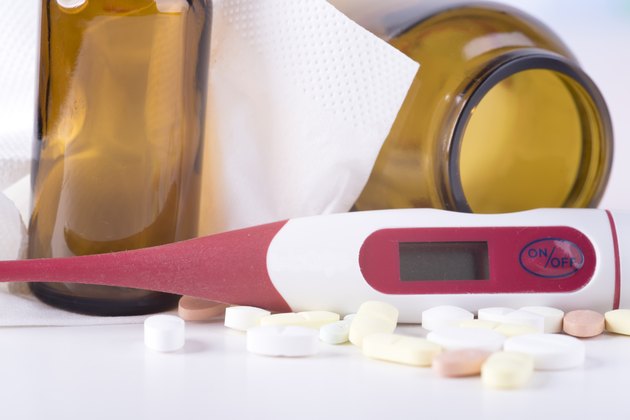 Neuraminidase Inhibitors
Flu viruses infect cells of the respiratory system, multiply and then infect nearby cells. The new viruses also spill into respiratory secretions, which are then coughed or sneezed into the environment, where they go on to infect other people. NAIs fight the flu in two ways. They prevent infected cells from releasing new viruses, which stops the virus from infecting nearby cells and spreading to others through respiratory secretions. NAIs also appear to prevent the virus from attaching to and infecting cells. As of 2016, there are 3 NAIs approved for use in the United States. Oseltamivir (Tamiflu) is administered orally, zanamivir (Relenza) is inhaled and peramivir (Rapivab) is given intravenously. NAIs are typically prescribed during epidemics to people who exhibit flu symptoms to stop the virus from spreading. NAIs act against both influenza A and B viruses.
Adamantanes
Adamantanes, also known as M2 inhibitors, are administered for treatment and prevention of influenza type A. They inhibit a virus protein called M2, which is essential for virus multiplication. The M2 proteins of influenza A and B viruses differ, and the adamantanes are only effective against the M2 protein of type A influenza viruses. By blocking the multiplication of influenza A viruses, adamantanes help to shorten the duration and severity of flu symptoms and curtail spread of the illness.
Two adamantanes are approved for use in the United States, amantadine and rimantadine (Flumadine). However, during the 2005-2006 flu season, the U.S. Centers for Disease Control and Prevention found that 92 percent of type A influenza viruses tested showed genetic changes indicating resistance to adamantane antivirals. That level of resistance remains as of the 2015-2016 flu season. As of 2016, CDC does not recommended adamantanes for influenza because of widespread drug resistance among the strains of type A influenza currently in circulation.
Effectiveness of NAIs
An April 2014 "Cochrane Database of Systematic Reviews" analysis of 107 clinical reports examined the effectiveness of NAIs for influenza. The authors found that oseltamivir shortened the duration of flu symptoms in adults and otherwise healthy children by about a day. However, this effect was not seen in children with asthma. Zanamivir shortened flu symptom duration in adults, but not children, by about one-half day. Both oseltamivir and zanamivir reduced the risk of developing flu symptoms in people exposed to another person with influenza. However, the review found a lack of evidence confirming that either drug diminishes the risk of complications from the flu, especially pneumonia, or that they lower the risk of hospitalization or death.
Peramivir was approved for use in the United States in December 2014, so there is less experience with this drug than the older NAIs. A study of 300 adults published in November 2010 in "Antimicrobial Agents and Chemotherapy" found peramivir reduced the duration of flu symptoms by about a day. A study involving 338 adults and children hospitalized with the flu found peramivir only slightly effective in reducing the duration and intensity of flu symptoms, as reported in the August 2014 "Clinical Infectious Diseases." However, the authors noted that the study had design flaws that may have affected the results. As of 2016, peramivir is not approved in the United States for use in children or for flu prevention.
Who Should Consider Taking NAIs
Antiviral flu medicines may be helpful for preventing the flu if you've been exposed to the virus, or treating the illness if you get sick. Antiviral flu treatment with NAIs can be considered for anyone, but the drugs are most effective if started within 48 hours of your first symptoms. CDC recommends NAI treatment for people with flu symptoms who are at increased risk for complications from influenza, including: -- Adults older than 65 and children younger than 2 years. -- Pregnant women and women who have given birth within 2 weeks of getting sick. -- People with existing health problems such as HIV, diabetes, morbid obesity, epilepsy, and heart, lung, liver and kidney disease. -- Native Americans and Alaskans. -- Residents of nursing homes and other long-term care facilities.
Possible Side Effects
Side effects with zanamivir are rare, although the drug is not recommended for people with lung diseases like asthma or chronic obstructive pulmonary disease. Inhaling the drug can aggravate these conditions. The most common side effects with oseltamivir are nausea, vomiting and diarrhea. Diarrhea is the most common side effect with peramivir. Rarely, reduced levels of a type of white blood cell have been reported. All NAIs warn of the rare possibility of serious side effects. These include severe allergic or skin reactions and psychiatric effects such altered or abnormal behavior and losing touch with reality.
Adamantanes cross into the brain and may cause side effects such as anxiety, insomnia, moodiness and difficulty concentrating. Rimantadine typically causes fewer nervous system side effects than amantadine. Nausea, vomiting and stomach upset are possible with both drugs.
Antiviral flu drugs have not been sufficiently studied to determine potential effects on fetal development. They can be used if the potential benefits outweigh the risks for pregnant women. Small amounts of oseltamivir and zanamivir pass into breast milk but don't appear to pose a risk to a breastfed baby. It's not known whether peramivir passes into breast milk.
Warnings and Precautions
Symptoms of the flu include fever of 100 to 104F, muscle aches, fatigue, and runny and stuffy nose. Most people get over the flu on their own, but it can have serious complications, such as pneumonia, sinus infections, dehydration and worsening of chronic medical conditions. Flu complications can lead to death, so it's important to seek help if warning signs develop.
Signs that you should be evaluated by a health care provider include trouble breathing, confusion, sudden dizziness and flulike symptoms that start to improve but then return. Warning signs that a child should be taken to the emergency room include difficult or noisy breathing, crying without tears, bluish skin color, inability to keep food down, refusal to eat, and being withdrawn, listless or unusually drowsy.
Is This an Emergency?
If you are experiencing serious medical symptoms, seek emergency treatment immediately.