Nearly two-thirds of cases of genital warts are contracted through sexual contact, according to the Mayo Clinic. In most instances, genital warts are caused by human papillomavirus (HPV), and are extremely contagious. People who have been sexually active or exposed to someone with genital warts might notice signs of redness, rash, itching or pain in the genital area, as well as the appearance of grayish or flesh-colored warts with wrinkly surfaces (described as a cauliflower shape) within 3 months of sexual contact. Others can carry the virus for years without symptoms. At-home treatments for genital warts might help reduce the frequency and severity of symptoms.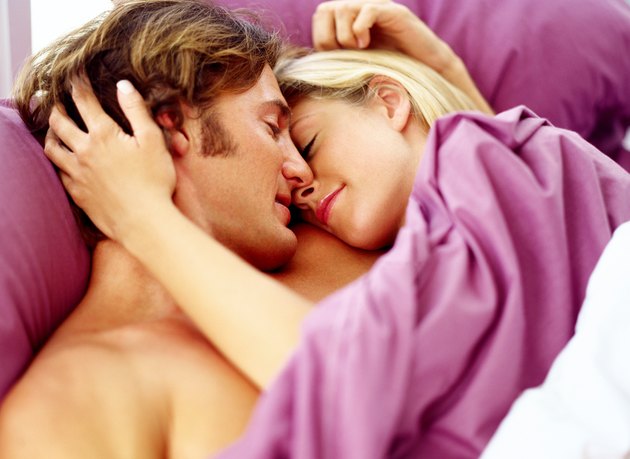 Itching
The Mayo Clinic says that many individuals who experience a flare-up up genital warts treat the topical discomfort with applications of vinegar, aloe and castor oil. Daily applications of onion juice and salt dabbed on with a cotton swab have been proven effective, a treatment that has been used for generations to naturally treat the inflammation and itching caused by eruptions of the virus. Many people have successfully removed warts by applying vitamin E oil with crushed raw garlic. Once the mixture is applied, it is covered with a bandage or adhesive tape and removed in about a week.
Homeopathic Remedies
Some people report relief from symptoms after using Nitricum acidum or Thuja. Thuja is also called the Tree of Life, White Cedar or Arbor vitae, and is used by Native Americans and European settlers for a variety of medical conditions. Nitricum acidum is a form of nitric acid that is used to treat warts. These remedies can be found in many natural or homeopathic shops, or ordered through online. Users should follow product directions. Consult your doctor prior to use to avoid interactions or side effects with any other medications you might be taking.
Herbs
Herbs can provide relief of symptoms of genital warts. Goldenseal and tea tree oil have long been used to treat itching and inflammation, as well as to reduce the severity and duration of flare-ups. Liquid tinctures should be diluted slightly with water because of the sensitivity of the genital area. Apply a light coating of goldenseal or tea tree oil with a clean cotton swab or cloth. Repeated application on a daily basis might result in the healing and smoothing of warts within 3 to 4 days.