There is little extra space around the spinal cord in the thoracic spine. Hence, a herniated disc in the thoracic spine can be serious. Sometimes, the first sign of the herniated disc is paralysis below the waist. Fortunately, a herniated disc in the thoracic spine is not as common as in the lumbar spine. Depending on the severity of the disc bulge, stretching and exercise can relieve pain and increase mobility.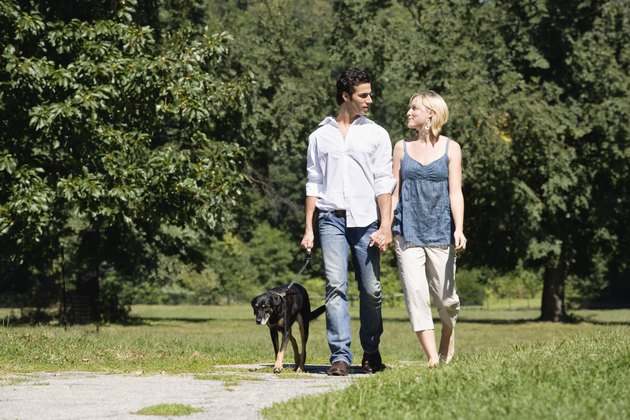 Walking
Disc herniation in the thoracic spine is painful. The pain may be severe enough to limit mobility. After a period of rest to let the pain subside, it is important to restore lost mobility by beginning a walking routine. Walking daily will help you regain mobility which will speed the healing process. According to the University of Maryland Medical Center, if the pain is severe take time off from work and limit your activity for a few days. After the severe pain subsides, you should begin to mobilize yourself. Start a walking program, increasing the distance you walk each day.
Stationary Bike
Improving flexibility is important when you have a bulging disc. According to the Cleveland Clinic, stationary bike exercises are effective in restoring flexibility and improving circulation, and they can speed healing of bulging discs. When starting a stationary bike routine, start slow and work your way up to a more vigorous pace as your pain level decreases. Check with your doctor if you have a herniated disc. He can refer you to a physical therapist to monitor your exercise program and make changes as needed.
Core Exercises
Spinal stability is important with bulging discs. Exercises to strengthen the legs and abdomen such as squats and abdominal crunches increase spinal stability, reducing pain from bulging discs. Pain resulting from a disc bulge is from pressure on nerves by the disc or bony structures. Stabilizing the spine by increasing muscle strength will reduce the movement resulting in less pain. Always allow the acute phase of pain to subside before beginning any exercise program.
Warning
As with any back pain, check with your doctor especially if you experience symptoms such as nausea, fever, headache, numbness or tingling in the extremities, trouble urinating or defecating, nocturnal pain or sudden and unexpected weight loss. These can be signs of something more serious than a disc bulge and require immediate medical attention.