Whether you're genetically thin or dealing with a medical condition that makes it hard to gain weight, you may struggle as much to put on the pounds as most people struggle to lose. While simply eating more calories sounds easy, it's also important to choose the right foods so you gain healthfully. A 3,000-calorie diet is an eating plan that can help most men and women gain weight.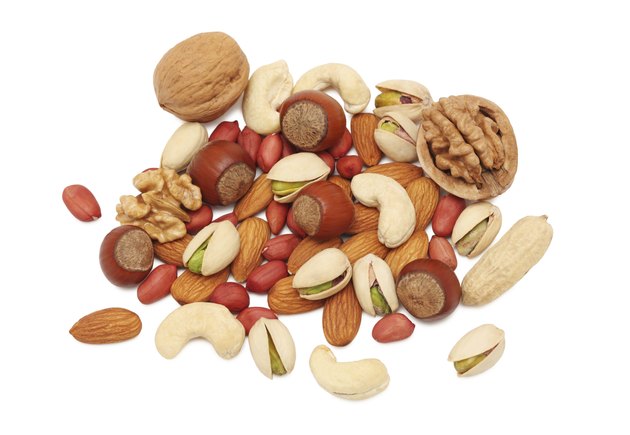 Weight-Gain Diet Basics
Eat three meals and three snacks a day on your 3,000-calorie weight-gain meal plan. To make sure you meet your daily high-calorie needs, each meal should contain 750 calories and each snack 250 calories. Include as many food groups -- fruits, vegetables, grains, protein foods and dairy -- as possible at each meal and snack to ensure that you meet your daily vitamin and mineral needs. Add nutrient-rich, calorie-dense foods, such as nuts, dried fruit, olive oil, avocados or cheese, to your meals to up calories without making you feel too full.
High-Calorie Breakfast
Start your day right with a healthy, high-calorie breakfast meal. For example, 1 cup of oatmeal made with 2 cups of whole milk can be topped with 12 sliced almonds and 1/4 cup of raisins. Serve it with 1 cup of orange juice for 730 calories. Or, enjoy a veggie omelet made with three eggs, 1/2 cup of sliced mushrooms and 1 ounce of Swiss cheese in a pan coated with 1 teaspoon of vegetable oil. Serve it with two slices of whole-wheat toast topped with 1 teaspoon of butter or margarine, along with 1 cup of whole milk, for a total of 750 calories.
Loading Up at Lunch
A high-calorie lunch meal on your weight-gain diet might include 1/2 cup of hummus, 1.5 ounces of feta cheese, alfalfa sprouts and shredded carrots stuffed into a whole-wheat pita and served with one container of low-fat yogurt and a large banana for 740 calories. Another high-calorie lunch might include two slices of cheese pizza with 2 cups of salad greens topped with 2 tablespoons of salad dressing. Your total will be 760 calories.
Calorie-Dense Dinner
For dinner, you might enjoy 4 ounces of grilled salmon drizzled with 1 teaspoon of olive oil served with 1 cup of brown rice, 1 cup of peas and 1 1/2 cup of fresh pineapple for 745 calories. Another dinner idea includes a burger made with 3 ounces of lean hamburger meat on a whole-wheat bun with 1 1/2 cups of roasted red potatoes made with 2 teaspoons of olive oil and 1 cup of roasted cauliflower drizzled with 1 teaspoon of olive oil. The meal amounts to 750 calories.
Make Every Snack Count
Include protein and healthy carbs, such as whole grains or fruit, with each snack, and pump up calories with healthy fats such as nuts or avocados. Examples of 250-calorie snacks include a large apple with 2 tablespoons of peanut butter; three whole-wheat crackers with 1 ounce of cheese; a turkey sandwich made with 1 ounce of turkey, one-eighth of an avocado on one slice of whole-wheat bread; or 1 cup of unsweetened cold cereal with 1 cup of whole milk.