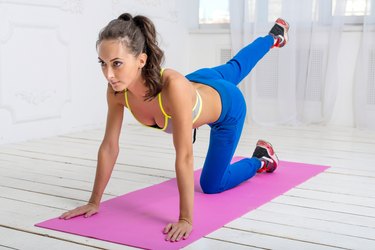 Some glute exercises can be awkward to do in the gym and would be much more comfortable to do at home. Luckily, plenty of workout DVDs can accommodate your at-home butt workout needs with motivational and knowledgeable instructors. The ones you choose depend on how long and difficult you want your workouts to be.
Take into account the duration of each workout, how much equipment you need, how intense they are and whether or not you like the instructor. If you're a beginner with no exercise equipment, make sure you choose the appropriate DVD for you. The video isn't going to help if you can't find time for the workout or you don't have the necessary equipment.
1. Brazilian Butt Lift
One of the most well-known butt-building DVDs of all time is the Brazilian Butt Lift. Beachbody is the company behind it — you may recognize the name from their other popular exercise DVDs, including P90X. The Brazilian Butt Lift is led by trainer Leandro Carvalho, who guides you through six workouts.
Each workout combines cardio moves with lower body muscle-building exercises that help you shape up your butt. The goal is to work all areas of the butt while burning fat on your hips and thighs.
The length of the workouts varies. The shortest is called Bum Bum Rapido, which lasts for 10 minutes and has an intense mixture of lower body focused bodyweight exercises. The longest workout is called Sculpt and lasts for 50 minutes.
Sulpt incorporates weighted lower and upper body exercises, so you'll need a pair of dumbbells to do it correctly. For the other workouts in the series you'll need a resistance band and ankle weights.
The Brazilian Butt Lift DVD also comes with a meal plan, resistance band, and two other DVDs.
2. Butts & Guts
If you thought that you would be able to gently cruise through an easy glute workout with this DVD, guess again. Doing the full workout takes 78 minutes total. That includes a warm-up, standing glute work, floor glute work, core, stretching and a bonus ab and leg workout.
The trainer, Cathe Friedriche, keeps you moving and motivated through the workout. Just note that you'll need some equipment to get through this workout. Make sure you have a stability ball, an elevated platform that you can step on, light dumbbells, a weighted barbell, ankle weights and a resistance band if you want to do all of the exercises.
3. Jillian Michaels Killer Buns & Thighs
Superstar trainer Jillian Michaels is going to help you tone up your backside in this DVD series. Each workout targets your glutes and helps your burn fat at the same time. They're also all different intensities, so you can get a good workout whether you're new to exercise or a seasoned vet.
The DVD has three workouts, all of differing levels and lasting about 40 minutes. Each has four different circuits of exercises that you do back-to-back. For each workout you'll need a collection of dumbbells, preferably of different weights. For most users, dumbbells under 20 pounds are sufficient.
4. Supermodel Series Butt & Thighs DVD
Andrea Orbeck, who worked with supermodels in Hollywood, lends some of her insight to this 50-minute butt and thigh DVD. The workout is fast-paced and uses something called "Minute Moves:" you do an exercise for a minute straight with slight variations.
You'll combine those fast-paced cardio moves with bodyweight and light resistance exercises that target the legs and glutes as well as some upper body exercises. The DVD comes with the Hipster toning band, which you can use to add resistance to your glute exercises.
You'll also need to use dumbbells for some of the exercises. Stick with a pair of dumbbells under 20-pounds because the workout uses a lot of repetitions.
5. Butt & Thigh Blast DVD
There's no equipment needed for this quick 25-minute glute workout. It uses your body weight and high reps to make your muscles burn. This DVD is perfect if you need a butt workout that gets to the point quickly. Jeanette Jenkins leads the workout and won't disappoint you if you're looking for a solid booty routine.
6. The Butt Bible
There are three DVDs in this set and each one is split into an upper and lower body section. Each DVD is a different level of intensity. The first DVD is 20 minutes per workout, the second DVD is 30 minutes and the third is 40 minutes.
The instructor, Pauline Nordin, was a star on the Nordic version of The Biggest Loser television show. She has a witty sense of humor and enthusiasm that helps you push through the workouts. For the lower body portion you'll work your glutes with exercises like bridges and squats. The only equipment you need is a barbell, chair, dumbbells or exercise mat.
7. 10 Minute Solution: Butt Lift
Designed with efficiency in mind, this exercise DVD series is all about getting in a workout in 10 minutes. In this DVD there are five different workouts for your booty and a bonus workout for your abs. Since they all run about 10 minutes long, there's almost no excuse for skipping them.
Lots of variety packs into the six different workouts. You'll do exercises from yoga, barre and Pilates for your glutes. There are also two high-intensity interval workouts that are designed to help you burn fat and make your muscles more defined as well as a bonus additional core workout. The only equipment you need is a yoga mat and the weight of your own body.