Muscles are only one of a variety of connective tissues in the body. They are used to hold the skeleton together, give you strength and motion. When these muscle as strained or pulled, they require additional nutrition and vitamins to effect a strong repair at the cellular level. One type of nutrient that plays a role in this repair are vitamins. When you provide your muscles with the right vitamins and nutrients you can be rewarded with effective muscle repair and restored physical functioning.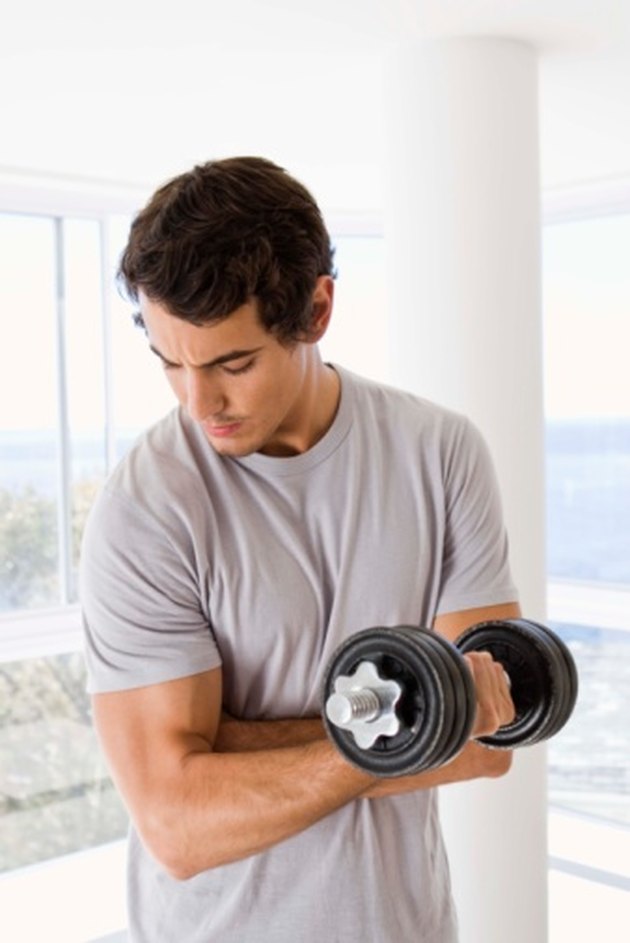 Vitamin C
Vitamin C is an antioxidant vitamin that also has anti-inflammatory properties, according to Dr. Abelson, chiropractor with over 13 years experience in active release techniques, acupuncture and craniosacral therapy. Vitamin C is also essential to strong tissue repair. It should be taken in the first five days of injury to bowel tolerance. Large doses of vitamin C can cause loose stools and diarrhea. However, because it is a water soluble vitamin, there are no long term side effects from large doses. Start with 3,000 mg per day divided in two doses and add 1,000 mg each day. Once you have loose stools you should back off by 1,000 mg until you have formed stools once again.
Vitamin D
Deficiencies in vitamin D have been linked to weak bones and muscles, according to the Office of Dietary Supplements at the National Institutes of Health. Receiving additional sources of vitamin D while healing from a muscle strain or pull can help the muscle to repair effectively. Only a few foods have vitamin D, including fatty fish, cheese, eggs, and mushrooms. Your skin also makes vitamin D when exposed to the sun.
Vitamin E
Vitamin E is an antioxidant that helps to reduce the damage done at the cellular level from free radicals produced during metabolism. However, according to BodyBuilding.com, it is also useful in reducing muscle damage that occurs during exercise or muscle strains. Vitamin can help reduce muscle soreness after exercise or muscle strain and reduce post-exercise inflammation and pain. Nuts, seeds, tomatoes and spinach are all natural food sources high in vitamin E.
Zinc
Zinc is a trace mineral that has received attention for the role it plays in the immune system and healing from a cold or the flu. However, it is essential as a regulator in the body for enzymes that reduce inflammation following an injury and the growth of new tissue to repair the damage, according to Dr. Abelson. Zinc can be taken for approximately 2 weeks after an injury but higher blood levels can also cause immune suppression and should be avoided.
Is This an Emergency?
If you are experiencing serious medical symptoms, seek emergency treatment immediately.