Chickenpox is an infectious disease caused by the varicella virus, with symptoms typically including an itchy, blister-like rash, fever and headache. While most cases occur in children under 15, adults who don't have immunity to the varicella virus also can contract chickenpox. To prevent the spreading of chickenpox, children and adults with the virus should avoid swimming and public swimming areas until they are no longer contagious and all blisters have healed.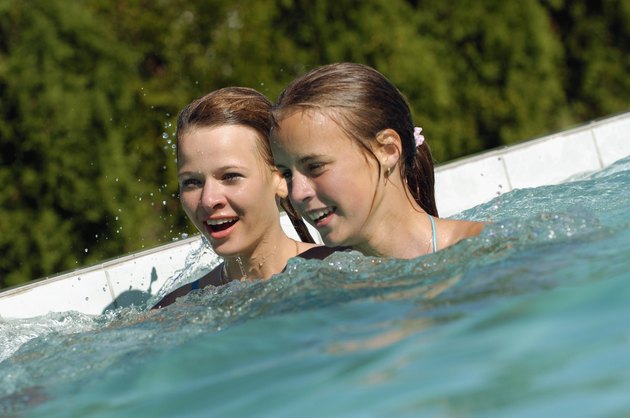 Contagiousness
Chickenpox is a highly contagious virus, and while it is primarily spread through the air, it can be contracted through physical contact without other children. Therefore, children or adults infected with the chickenpox virus should not swim in public swimming areas, including swimming pools, hot tubs, or water parks, until all lesions have healed. The same goes for people with active cases of shingles, which are related to the same virus that causes chickenpox. While the chlorine in swimming pools kills bacteria, it does not kill viruses like chickenpox. Furthermore, the chickenpox virus is very easily contracted through the respiratory tract in indoor or outdoor pool areas where children eat, drink and play.
Swimming Pool Rash
Keep in mind that if you or your child develops a chickenpox-like rash after swimming, the rash might be caused by a bacterial infection and not the chickenpox virus. Swimming pool rash, also called "hot tub rash," is caused by the germ Pseudomonas aeruginosa, which breeds in poorly maintained pools and hot tubs. People with swimming pool rash develop itchy, sometimes pus-filled spots on the skin that can resemble the symptoms of chickenpox. Unlike, chickenpox, however, swimming pool rash usually clears up in a few days without treatment. If you or your child develops a chickenpox-like rash after swimming, your doctor should be able to determine whether the rash is chickenpox or a swimming pool rash by examining the rash and noting the presence or absence of symptoms that often accompany chickenpox, such as fever and loss of appetite.
Home Remedies
Although cool water from the swimming pool might temporarily soothe itchy chickenpox lesions, this same effect also can be achieved by taking a cool bath with baking soda or colloidal oatmeal. Other home remedies that might help relieve skin discomfort caused by chickenpox include applying calamine lotion to spots and taking antihistimine medications to lessen itching. To relieve pain, it is safe for children and adults with chickenpox to take acetaminophen or ibuprofen, but it is unsafe to take aspirin with chickenpox as this can lead to the development of a serious condition called Reye syndrome.
Vaccination
If your child has never contracted the chickenpox virus, vaccination is an effective way to drastically reduce the chance of your child contracting chickenpox from a swimming area or other contagious environment. The chickenpox vaccine provides complete protection against chickenpox for almost 90 percent of children who are vaccinated. For children for whom the chickenpox vaccine doesn't provide complete protection, it significantly reduces the severity of symptoms.