Vitamin B12 belongs to the B-complex group of water-soluble vitamins. Although adequate levels of vitamin B12 can usually be ingested through a normal diet, vitamin B12 deficiencies might develop in certain individuals. A severe vitamin B12 deficiency can affect the nervous system and cause several neurological symptoms, including involuntary movements. Vitamin B12 deficiency is a serious health condition, and if you suspect that you or your child has a vitamin B12 deficiency, you should consult your doctor.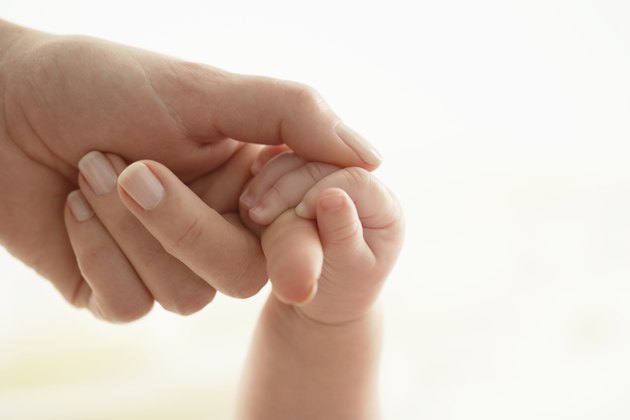 Involuntary Movements in Children
Involuntary movements are a common sign of vitamin B12 deficiency in children, often appearing 2 to 12 months after birth. In developed countries, the most common cause of vitamin B12 deficiency in children results from the child being exclusively breastfed by a mother who has symptomless vitamin B12 deficiency. Roughly half of all infants with vitamin B12 deficiency display involuntary movements, reports an article published in the February 1997 issue of the journal "Pediatrics." The involuntary movements include tremors and twitching of the hands or feet. The movements are sometimes described as mimicking playing the piano or dancing.
Involuntary Movements After Treatment of Deficiency
In some infants, involuntary movements may not appear until after the child begins receiving vitamin B12 for treatment of the deficiency, explains an article published in the June 2009 issue of the "Journal of Child Neurology." For unknown reasons, some infants develop involuntary movements in limbs, tongue and face within three to five days following treatment with vitamin B12. One theory for this effect is that the sudden introduction of vitamin B12 causes an intense stimulation of the pathways that rely on B12, resulting in a temporary imbalance of various metabolic pathways. These symptoms often disappear within three to six weeks after treatment stops.
Involuntary Movements in Adults
Among adults, symptoms of involuntary movements rarely occur during a vitamin B12 deficiency. However, rare cases of adults experiencing involuntary movements resulting from vitamin B12 deficiency have been reported, according to an article published in the May 2003 issue of the journal "Parkinsonism and Related Disorders." In some adults, involuntary movements might also occur after administration of vitamin B12 to treat the deficiency.
Other Neurological Symptoms
Particularly in adults, vitamin B12 deficiency can cause several other neurological symptoms, reports the article published in "Parkinsonism and Related Disorders." Prolonged deficiency can cause damage to nerves, either in the spinal cord or in the peripheral nerves that reach out to other parts of the body. Damage to the peripheral nerves, which is called peripheral neuropathy, can cause a tingling sensation or numbness in the hands in feet. If the nerves that connect to the eyes are damaged, vision loss may occur. Memory loss can also occur from damage to brain neurons.