Docohexaenoic acid, or DHA, is an omega-3 fatty acid. You may recognize it as a heart-healthy nutrient, but DHA also benefits pregnant mothers and their developing infants. There is no official dietary reference intake, or DRI, specifically for DHA. Some experts recommend that pregnant women consume 200 to 300 milligrams of DHA daily, and the government has suggested consuming safe seafood regularly to meet your requirements during pregnancy.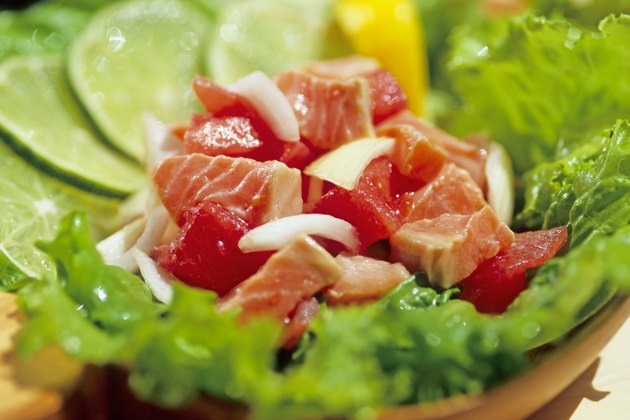 Relationship Between DHA and Seafood
DHA is a necessary for proper brain and visual development in pregnancy, especially during the last trimester. Seafood is a major dietary source of DHA. [?] Since it also contains EPA, a long-chain omega-3 fatty acid that your body can convert to DHA. [?] Because of the close ties between EPA and DHA in the body and the association between maternal seafood consumption and improved cognitive performance [+/-] in their children, the government [?] has recommended that pregnant women consume 8 to 12 weekly ounces of seafood (See References 1, Pages xi).
Get Your DHA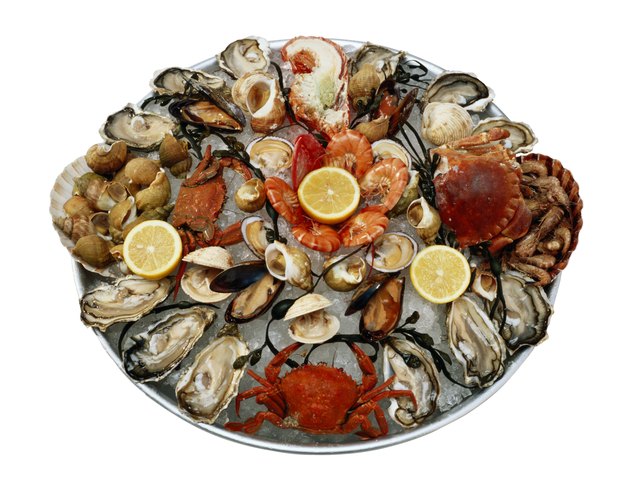 Fatty or oily fish are the most concentrated natural sources of the long-chain omega-3 fatty acids EPA and DHA. A 3-ounce portion of chinook salmon has 620 milligrams of DHA and 860 milligrams of EPA, while a 3-ounce serving of Pacific herring provides 750 milligrams of DHA plus 1,050 milligrams of EPA. Your doctor can provide additional guidance on DHA and seafood choices during pregnancy or while breastfeeding.
Avoid Mercury Toxicity
Seafood is the main dietary source of EPA, but it can contain mercury, an environmental contaminant. Mercury in seafood can build up in your body and harm the nervous system of a developing fetus. Pregnant women should avoid consuming the fish likely to be highest in mercury, including shark, king mackerel, tilefish and swordfish.
Ask About Dietary Supplements
If your doctor recommends it, you can consider using dietary supplements to meet your DHA requirements while you are pregnant. Women who follow vegetarian or vegan diets may be at particular risk of inadequate consumption of DHA and may benefit from supplementation, according to research published in "The Medical Journal of Australia" in August 2013. The University of Maryland recommends asking your doctor to help you choose a supplement that is pure and does not contain high mercury levels.