A steady golf swing depends on steady footing. And steady footing depends to a large degree upon the shoes you wear. You spend a lot of time selecting the right clubs; taking the time to select the best shoe can be just as important, especially if you suffer from plantar fasciitis.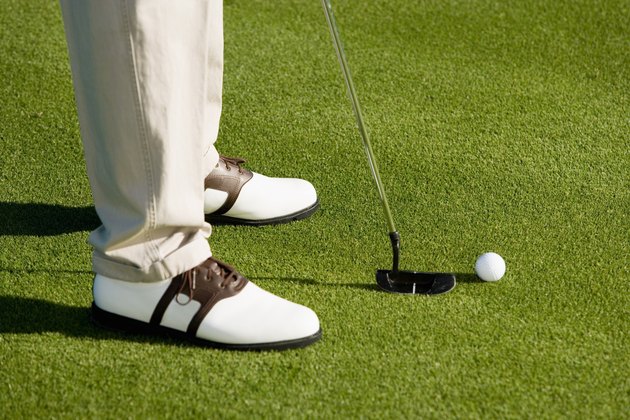 Plantar Fasciitis
Your plantar fascia, a thick layer of connective tissue on the bottom of your foot, running from your toes to your heel, can become inflamed and painful. Discomfort can occur in your heel or arch. Occurring most commonly in middle-age or overweight individuals, younger adults who spend a lot of time on their feet, or athletes, plantar fasciitis can make playing golf difficult, especially if you walk the course. If your physician clears you for playing golf, wearing the right golf shoes can make your game more enjoyable.
Best Golf Shoe Characteristics
The best golf shoes for people with plantar fasciitis are flexible and have a well-contoured insole with a prominent arch support, according to an article on proper footwear published on the Estrella Mountain Community College website. To reduce pain and prevent further injury to your fascia, your golf shoes should support your foot and minimize foot movement within the shoe.
The Importance of Cushioning
Even the best new golf shoes for plantar fasciitis are no longer appropriate once they begin to wear. Treating your plantar fasciitis by wearing the best golf shoes during your game requires that your shoes have optimal cushioning for shock absorption and arch support. According to the University of California, Berkeley, University Health Services, plantar fasciitis should resolve within four weeks when you give your foot rest and do exercises to stretch your plantar fascia and Achilles tendon. If the condition persists, consult your medical provider. Meanwhile, wear golf shoes that are comfortable and reduce your foot pain.
Getting the Best Fit
No matter how carefully you select your golf shoes, they will not improve your condition or make your golf game any easier if you do not find the proper fit. The best time to buy golf shoes is at the end of the day or after a workout, when your feet are somewhat larger than they are early in the day, according to "How to Choose the Right Athletic Shoe" by Robin Brett Parnes. Fit your shoes to your larger foot, as most people have one foot slightly larger than the other. And wear the same socks to fit your shoes as you will wear when playing golf. Your shoe should firmly grip your heel, and you should be able to wiggle your toes. Walk around in the shoes, and take imaginary golf swings, to make certain the shoes are not too loose or too tight when you move. (See Reference 4.)
Is This an Emergency?
If you are experiencing serious medical symptoms, seek emergency treatment immediately.