Kegel exercises are controlled muscle contractions designed to strengthen the muscles between the bones in your pelvis. Men commonly perform these exercises to combat the effects of urine leakage or urinary incontinence. If you perform Kegel exercises improperly, you won't gain the incontinence benefits of your activity. If you perform Kegels too frequently, you may trigger side effects that lead to a worsening of your urinary problems.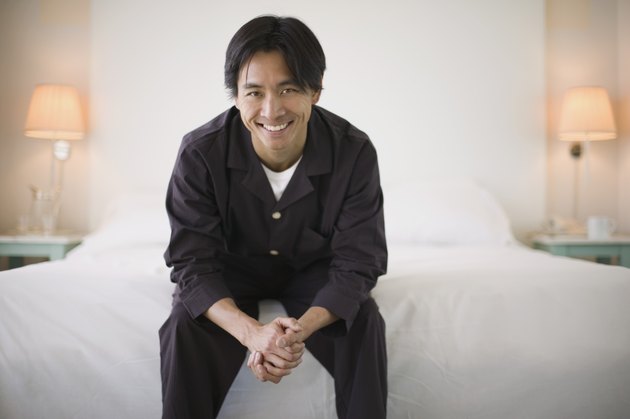 Basics
The muscles between your pelvic bones are referred to as the pelvic floor. Together, they help keep your bladder, rectum and other pelvic organs in their proper place. If you are aging, overweight or have prostate problems, the muscles in your pelvic floor can weaken, leading to a reduction in your ability to control the urine flow from your bladder adequately. If you perform them regularly, Kegel exercises can eventually help you offset pelvic floor weakness and regain bladder control.
Kegel Exercise Routines
To perform Kegel exercises, you engage the muscles of your pelvic floor in the same way you would if you were trying to stop your urine flow midstream. During your Kegel routine, you hold each contraction for roughly 10 seconds, then rest for another 10 seconds before the next contraction. Typically, you perform Kegel exercises in a single set of 10 contractions at the start of your day, followed by additional 10-contraction sets at midday and at night. In most cases, noticeable improvements in bladder control occur after you perform Kegels for four to six weeks. However, you may not notice a significant change for as long as three months.
Excessive Kegels
The pace of your Kegel routine is designed to build up your pelvic floor muscles gradually over time. While you may think that performing more than the recommended number of Kegels will increase the speed of muscle strengthening, this is not the case. In fact, performing an excessive number of Kegels can lead to weakening of your pelvic floor muscles. In turn, this weakening side effect can lead to a further reduction in your ability to control your bladder.
Using the Right Muscles
MedlinePlus reports no side effects when Kegel exercises are performed according to general recommendations. However, if you don't engage the proper muscles during your routine, you won't improve your bladder control. Muscles that are commonly mistakenly engaged during Kegel exercises include the upper leg, back and abdominal muscles. You can practice contracting your pelvic floor muscles by sitting on your toilet when you urinate and consciously stopping your urine flow. You can also lie down, insert a single finger into your rectum and contract your muscles around it. Consult your doctor for additional information.