Acute HIV refers to the 6-to-12-week period when HIV infection first occurs. It is during this time that HIV antibodies develop, creating the virus that attacks the immune system. Over time and without treatment, HIV can lead to AIDS. Although weight loss does not occur during the acute HIV infection stage, it is present throughout the rest of the disease life cycle. Without careful medical management, and sometimes even with it, the extreme weight loss associated with the disease can be fatal.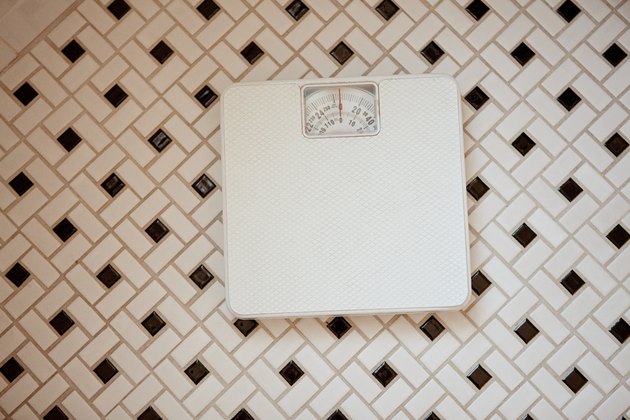 Symptoms of Acute HIV
Some but not all people experience flu-like symptoms during the acute HIV infection phase. Usually lasting just a few days, symptoms include fever, chills, night sweats and even rash. Because these symptoms resemble those of other common infections, it is easy for this stage to pass undetected and leave its victims unsuspecting. If you have recently engaged in high-risk behaviors and are experiencing flu-like symptoms, it is important to get an HIV test. Not only can early HIV detection and intervention save your life, it can save the lives of others, as the risk for transmitting HIV is highest during the acute stage.
Stage-by-Stage Weight Loss
To help diagnose AIDS and HIV in resource-poor communities where medical testing facilities are lacking, the World Health Organization (WHO) created a staging system that diagnoses HIV disease stages based on clinical symptoms. Among other complaints, a symptom of stage 2 that immediately follows the acute HIV stage is unexplained weight loss that totals less than 10 percent of your presumed weight. During stages 3 and 4, unexplained weight loss of greater than 10 percent of presumed weight is likely, along with chronic diarrhea and a host of other ailments. Doctors describe this weight loss condition as HIV wasting syndrome.
Weight Loss Causes
Although the relationship between HIV infection and weight loss continues to be studied, most believe it is the result of side effects like diarrhea, nausea, loss of appetite and medications prescribed to control disease progression. In addition, common AIDS-related opportunistic infections require the body to utilize more calories to help fight them, and oral HIV infections make eating painful and difficult.
Weight Loss Management
Doctors often take a combination of approaches to help curb weight loss. While they often prescribe appetite stimulants to increase hunger, dietary interventions include increasing food intake, building a high-quality diet and drinking nutritional supplements to get extra calories and protein when necessary. Weight lifting or progressive resistance exercises, along with anabolic steroid, testosterone and growth hormone injections, can help build muscle mass.