High calcium in the blood is known as hypercalcemia. Calcium is required in the body for bone growth and maintenance, muscle contractions, as well as proper hormone, nerve and brain function. Causes of hypercalcemia include over-activity of the parathyroid glands, certain cancers, inflammatory diseases of the lungs, excessive use of vitamin D and calcium supplements, medications and dehydration.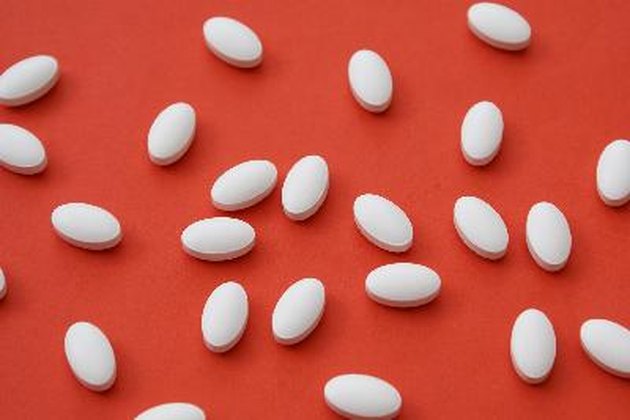 Mild Hypercalcemia
You may not experience any symptoms with mild hypercalcemia. It can result in nausea, vomiting, loss of appetite, abdominal pain, dry mouth, thirst, constipation and frequent urination. Muscle weakness, pain and twitching or joint pain may also occur. The level of calcium in your blood does not necessarily relate to the level of symptoms. Symptoms will differ from person to person.
Severe Hypercalcemia
Severe, untreated hypercalcemia may result in osteoporosis, bowing of the shoulders, fractures, spinal column curvature and loss of height. Kidneys can be affected leading to kidney stones and potential kidney failure. High calcium can also lead to irregularity of heartbeats. The nervous system can also be affected by high levels of calcium leading to mental irritability, confusion, dementia, coma and death.
Prostate Cancer
Some studies show that men who take certain amounts of calcium either increased or decreased their risk of prostate cancer. For example, a 1998 study published in "Cancer Research" concluded that men who took more than 2,000 mg of calcium a day had a four times higher risk of getting prostate cancer than those taking less than 500 mg a day. A 1997 case-control study reported in the "European Journal of Cancer" found a decreased risk with higher intakes of calcium. Oregon State University's Linus Pauling Institute reports that it is safe for men to consume 1,000 mg to 1,200 mg per day as recommended by the Institute of Medicine.
Considerations
It is important to see your health care provider if you experience any signs and symptoms of hypercalcemia or if you have a family history of it since it is possible to have hypercalcemia without symptoms. You can avoid high blood calcium levels caused by high intake of calcium or vitamin D by talking to your physician before you begin taking any supplements.