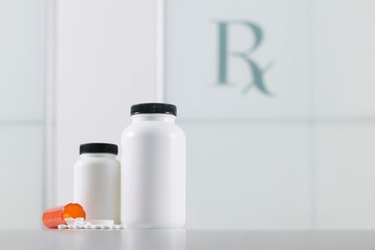 Viagra is an oral medication prescribed to treat erectile dysfunction in men. It can also be used to treat certain forms of hypertension and improve stamina during physical exercise in both men and women. Drugs.com explains that Viagra works by relaxing muscles and increasing blood flow to certain areas of the body. Viagra should be taken only as directed. In the event that an individual overdoses, whether intentionally or unintentionally, there may be several undesirable side effects.
Overdose Symptoms
Drugs.com identifies chest pain, nausea, irregular heartbeat, fainting and/or feeling light-headed as preliminary signs of overdose. Medical attention should be requested if any of these symptoms are experienced.
Exacerbated Positive Effects
Viagra is used to improve a man's erection. When an overdose of the medication has been consumed, the positive side effects can be exacerbated. A man may experience a painful erection that lasts for more than 4 hours. This can be a very serious concern. Prolonged erection can lead to permanent damage to the penile tissues, resulting in an increase in erectile dysfunction. Surgery may be required to reduce the blood that has caused swelling in the penis.
Exacerbated Negative Effects
The common side effects of Viagra may be exacerbated or more likely to occur with an overdose. According to Drugs.com effects may include back pain, upset stomach, diarrhea, vomiting, memory problems, headache, stuffy nose, vision changes, breathing problems or irregularities, irregular heartbeat, ringing in the ears, hearing loss, sudden loss of vision, sweating, pain spreading from the chest to the arm or shoulder, warmth or redness in the face, warmth or redness in the neck and/or chest. RxList.com also warns of an increased risk in cardiovascular difficulties resulting from blood pressure fluctuations and heartbeat irregularities. Men who were taking a low dose of Viagra due to existing health concerns may be more likely to experience an increase in the symptoms that are associated with their health issues. Individuals who are taking other medications often receive a smaller dose of Viagra to avoid interaction. In the case of overdose, the chances of a drug interaction are also higher. The results of a drug interaction can vary, but in most cases, it can be serious or deadly, according to RxList.com.
Rare Side Effects
RxList.com lists several rare side effects of normal Viagra use that may be more likely to occur when too much Viagra has been taken. These hazards may include arthritis, swelling of any part of the body, increased thirst, anemia, liver function tests abnormalities, gingivitis, migraine, cardiac arrest, heart failure, allergic reaction including anaphylaxis, abnormal dreams, sinusitis, sore throat, bronchitis, increase in phlegm, coughing, skin ulcer, dermatitis, tremors and/or vertigo.