Whether they are present when you awaken or cause you to wake up early, morning headaches are clearly not the ideal way to start your day. They are relatively common and occur with a variety of conditions. Certain types of primary headache disorders, such as migraine or cluster headaches, frequently cause morning headaches. They may also occur with other conditions, ranging from medication overuse or caffeine withdrawal, to sleep disorders, to teeth grinding. Brain tumors, severe lung disease and low blood sugar are less common causes. Your doctor can determine the cause of your morning headaches and recommend appropriate treatment.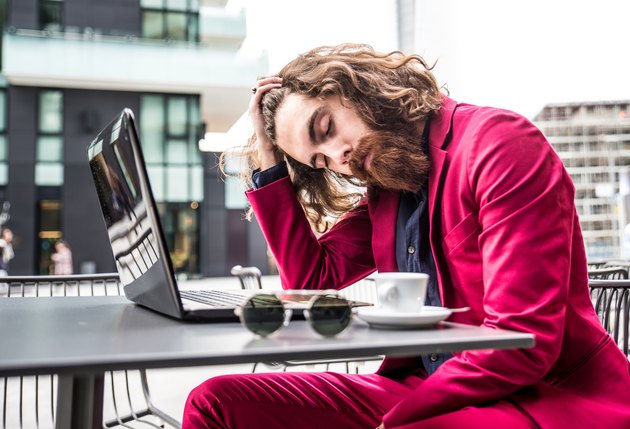 Primary Headache Disorders Are a Common Cause
Recurrent headaches not due to another disease are known as primary headache disorders. Migraines may occur at any time, but often begin during the night or in the early morning. A study of 1,698 people with migraine headaches published in the June 1998 issue of "Headache" found that 48 percent of migraines occurred between 4:00 a.m. and 9:00 a.m. Migraines typically cause throbbing pain on one side of the head, associated with nausea and worsened by exposure to light. They may be preceded by an aura -- neurologic symptoms, such as seeing flashing lights.
Cluster headaches are episodes of stabbing pain usually felt behind one eye, which last for 15 to 180 minutes. They are associated with nasal discharge or congestion, and tearing or eyelid drooping on the same side. Cluster headaches occur one to many times daily, but more than half occur in the night or early morning. As discussed in the medical text "Sleep Disorders," two overnight peaks have been identified: one between 9 p.m. and 11 p.m. and the other between 4 a.m. and 7 a.m.
Medication Overuse and Caffeine Withdrawal May Be the Culprits
When medications are used frequently or in increasing amounts to treat headaches, morning headaches may ensue. These medication-overuse headaches -- also called medication-induced or drug-rebound headaches -- are due to the medication effects wearing off while a person sleeps, causing a type of drug withdrawal reaction. Medication-overuse headaches are probably more common than people realize. According to a December 2004 review article in "American Family Physician," approximately one-third of people with chronic daily headaches overuse medications.
Caffeine withdrawal is a similar phenomenon. People who consume excessive caffeine often develop morning headaches as their caffeine levels plummet overnight. Caffeine withdrawal may also contribute to medication-overuse headaches, as caffeine is a component of some common headache medications. Examples include over-the-counter pain relievers containing aspirin or acetaminophen plus caffeine (Anacin, Excedrin Extra Strength, Vanquish) and prescription headache medicine with butalbital, acetaminophen and caffeine (Fioricet, Zebutal).
Sleep Disorders Frequently Produce Morning Headaches
Obstructive sleep apnea syndrome (OSAS), characterized by repeated breathing pauses during sleep, is often associated with morning headaches. A study of 235 individuals with OSAS reported in the June 2015 issue of "The Journal of Headache and Pain" found 20 percent had morning headaches. In other studies, up to 74 percent of people with OSAS experienced morning headaches. OSAS headaches typically manifest as uncomfortable pressure on both sides of the head, similar to tension headaches. How OSAS triggers morning headaches has not been established. Possible explanations include low oxygen or high carbon dioxide levels in the blood, or disrupted sleep caused by partial awakening during episodes of paused breathing. People with OSAS are often overweight and have other symptoms, such as excessive daytime sleepiness and snoring.
Other sleep disorders -- such as insomnia, periodic limb movement during sleep, sleep walking and sleep paralysis -- may also be associated with headaches in the morning. Disrupted sleep associated these disorders likely contributes to morning headaches.
Bruxism and Sinus Infections Are Sometimes the Source
Grinding of the teeth, or bruxism, during sleep may lead to headaches in the morning. These headaches are often located around the temporomandibular joints, which connect the upper and lower jaws. Sleep-related bruxism headaches may be associated with other symptoms, such as jaw locking or excessive wearing down of the teeth. Sinus infections are another cause of headaches, which are often worse when lying down. This can lead to morning headaches, although sinus headaches may occur at other times of the day as well. Nasal congestion and discharge, as well as a cough are other symptoms that suggest a sinus infection may be present.
Serious Medical Conditions Are Uncommon Causes
Brain tumors may cause morning headaches, as lying down can lead to increased pressure within the skull. This increased intracranial pressure often causes nausea and vomiting as well. In adults with brain tumors, neurologic symptoms such as weakness, numbness or seizures are generally present by the time headaches develop. Headaches in the absence of other symptoms occur in less than 10 percent of people with brain tumors, according to a December 2004 "American Family Physician" review article.
People with severe lung disease, such as advanced chronic pulmonary disease (COPD), may also experience morning headaches. This is primarily due to increased carbon dioxide levels in the body during sleep, which leads to increased blood flow to the brain. Disrupted sleep, which often accompanies severe COPD, may also contribute to the morning headaches.
Low blood sugar levels are another possible cause of morning headaches. This is particularly likely to occur in people with diabetes receiving large evening doses of insulin, in whom the lack of sugar intake during sleep is unable to counterbalance insulin's sugar-lowering effects. Other symptoms of hypoglycemia include confusion and sweating.
When To Seek Medical Attention
If you experience morning headaches on a regular basis, see your doctor to determine the cause. Beware of taking excessive doses of headache medications, as this can make your morning headaches worse. If daytime sleepiness accompanies your morning headaches, see your doctor promptly as this may signal OSAS or another sleep disorder. Likewise, seek prompt medical care if you experience morning headaches and any neurologic symptoms, have severe lung disease or take insulin for diabetes. Obtain immediate medical attention if you have any headache that occurs suddenly, is very severe or is accompanied by any new neurologic symptoms, such as weakness, numbness, confusion or decreased level of consciousness.
Reviewed by: Tina M. St. John, M.D.