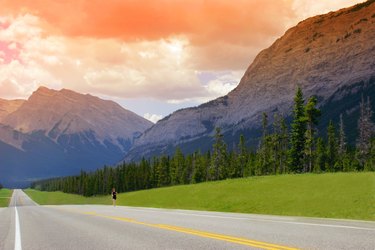 If you have flat feet, running without the proper shoe support system can lead to injuries. Normally, the foot arch helps absorb the shock of the foot striking the ground while running, but for flat-footed runners, the arches collapse when their feet hit the ground. As a result, flat-footed runners are more likely to get injuries. Choosing the correct shoes can greatly help your form, however, so check out the top 10 running shoes for flat feet.
Flat-Footed Dynamics
When the foot strikes the ground with flat feet and the arch collapses, the ankle twists inward and knee overcompensates while running. Flat-footed runners tend to overpronate, which means the feet roll inwards too much when running. As a result, flat-footed runners need stability features, which help stabilize the feet and prevent extra rolling movements. People with very flat feet who severely overpronate can benefit from motion-control shoes, which restrict extra motion of the feet. Support is also important for flat-footed runners, as their arches do not offer sufficient cushioning.
Motion Control Shoes
Motion control shoes can help runners with extremely flat feet and a high level of overpronation. The best motion control shoes, according to RunningProductReviews.com, include the Saucony Progrid Hurricane 15, Mizuno Wave Inspire 9, Brooks Adrenaline GTS 13, Brooks Ravenna 4 and Asics Gel-Kayano 19. RunningShoesGuru.com recommends Mizuno Wave Alchemy 12 as the lightest motion-control running shoe available.
Stability Shoes
For individuals with an arch that may collapse while running, shoes designed with layers of polyurethane material in the arch create more support and stability. Stability shoes can correct overpronation by limiting excess motion of the foot, helping flat-footed runners move more efficiently. Stability shoes tend to be less bulky than motion-control shoes. The best stability shoes, according to RunningShoesGuru.com, are Adidas Adistar Boost, New Balance 870v3 and Nike Lunarglide 5.
Considerations
Shoes with stability or motion control features tend to offer plenty of arch and foot support, as overpronators are usually flat-footed or overweight runners. If you have extremely flat feet, consider adding arch support inserts in your running shoes. Make sure your shoes do not become too tight after you add the inserts, however, as your toes should still have a little wiggle room so you don't get blisters.