Urinary tract infections affect your urinary system. The urinary system includes the bladder, the kidneys, the urethra and the ureters. Most infections affecting the bladder are known as lower tract infections, while infection of the kidneys is known as pyelonephritis. There are several types of antibiotics used to treat urinary tract infections. The choice depends on many factors, including medical history, allergies, and susceptibility of the causative microorganism to that particular antibiotic.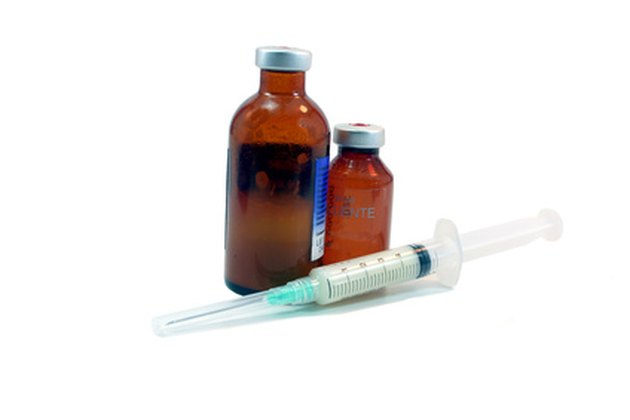 Penicillin
Penicillin antibiotics are classified as beta-lactam antibiotics because of their biochemical structure. Beta-lactam antibiotics are bactericidal antibiotics, meaning they kill bacteria, as compared to bacteriostatic antibiotics, which inhibit bacterial growth. Penicillin antibiotics kill bacteria by disrupting the production of the bacterial cell wall, causing the microbes to burst. According to the University of Maryland Medical Center, amoxicillin was once one of the most commonly used penicillin antibiotics against urinary tract infections. Now it is ineffective against up to 25% of cases of E. coli, the most common bacteria to cause urinary tract infections. Augmentin is another penicillin antibiotic used in the treatment of urinary tract infections. Side effects of these medications include diarrhea, stomach upset, and rash.
Cephalosporins
Cephalosporins are another type of beta-lactam antibiotic, and are similar in biochemical structure to penicillins. These antibiotics work against a greater range of bacteria that cause urinary tract infections. Ceftriaxone is one of the most commonly administered intravenous antibiotics, and it is useful in the treatment of pyelonephritis. Oral cephalosporins, including cefixime, can treat lower urinary tract infections, such as cystitis or bladder infection. The side effects of cephalosporins are similar to those of penicillin antibiotics.
Fluoroquinolone
The fluoroquinolone antibiotics are bactericidal, killing bacteria by interfering with their replication process. According to the Merck Manual, when taken by mouth, fluoroquinolones reach high levels in the urine, making them ideal for treating urinary tract infections. Side effects include irritation of the gastrointestinal tract, headache, drowsiness, and heart rhythm abnormalities.
Sulfa
Sulfa antibiotics work against bladder infections caused by susceptible microorganisms. Unfortunately, most bacteria already exhibit high levels of resistance to this class of antibiotics. Sulfa antibiotics are bacteriostatic, inhibiting the growth of bacteria by interfering with their synthesis of DNA, the protein that carries a cell's genetic code. Side effects include rash, allergic reaction, and other inflammatory reactions.