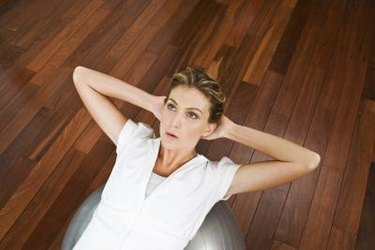 If you have an apartment, then it is not likely you have enough space to include large pieces of fitness equipment, such as elliptical machines, steppers and nonfolding treadmills. If you don't live on the first floor, getting large workout machines into your apartment also can be difficult. Compact pieces of cardio equipment and other workout devices are convenient options for apartment dwellers.
Folding Treadmill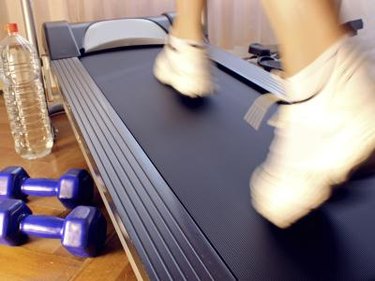 Although nonfolding treadmills are not likely appropriate for an apartment, you can find budget-friendly versions that fold up when not in use. Folding treadmills typically have an extra joint in the middle of the deck to allow for quick and easy folding. Treadmills can enhance energy expenditure better than any other cardio fitness machines, according to a 1996 study published in "The Journal of the American Medical Association." However, if you are a serious runner, folding treadmills typically are not built to withstand the impact from frequent running sessions.
Stability Ball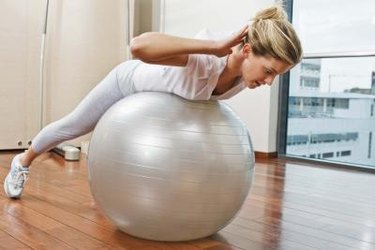 Stability balls are made to withstand your body weight. During any type of exercise using the ball, you will work the muscles in your core. Examples of moves you can do on a stability ball include crunches, planks and leg lifts. Stability balls create a resistance workout without the need to purchase dumbbells and barbells. Besides resistance training to increase strength and endurance of the muscles, use an exercise ball to stretch the ab muscles in preparation for other forms of exercise. When the ball is not in use, store it in a corner of your apartment.
Mini-Steppers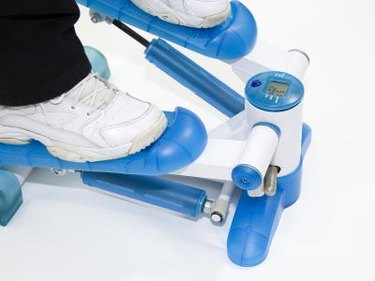 Steppers typically are made up of a large base, a console and attached ski poles. Mini-steppers are the pedal portion of the machine. You move your feet up and down to work the muscles in the lower body. Mini-steppers also typically allow you to change the resistance level to make the workout more difficult. Mini-steppers allow you to have a stair climbing workout even if you don't have stairs in your apartment. For someone weighing 155 lbs., a step workout can burn approximately 446 calories in one hour of use, according to Harvard Health Publications. When you are done with the equipment, you can store the stepper in an apartment closet or under your bed.
Resistance Bands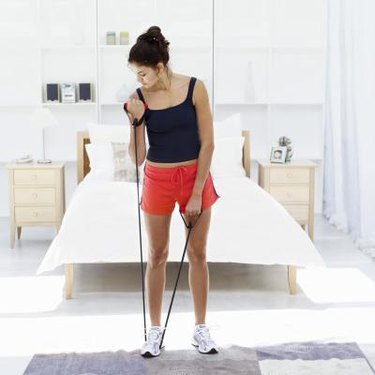 Resistance bands take up hardly any room when not in use. You can purchase a resistance band DVD to receive instructions on how to perform a variety of exercises with it. Secure the resistance band to a chair or your legs to work different muscle groups. The standout feature of a resistance band is that you can create resistance without the need to buy and store dumbbells in various weights. Changing the way you hold the resistance band can increase or decrease the difficulty of your workout.