Sodium, or salt, makes up an essential part of your diet. Found in a number of food products, salt can act as a preservative to help extend a food's shelf life, or act as a seasoning and flavor enhancer in dishes. Eating too much salt can increase your risk of health problems, with excessive sodium consumption linked to heart or kidney disease in some individuals. However, too little salt in your system -- a condition called hyponatremia -- can also prove harmful, causing a number of side effects.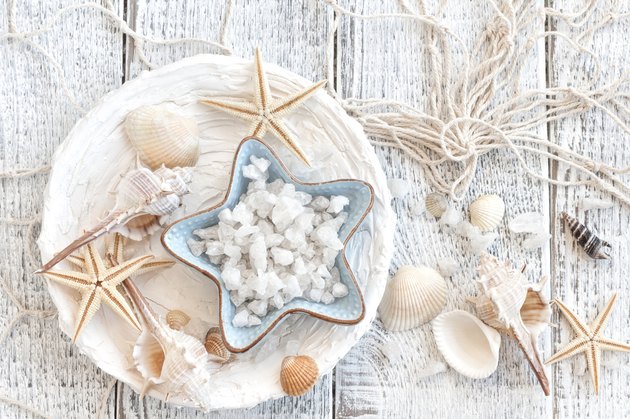 Early Symptoms
An early symptom of salt deficiency is the development of digestive upset, including nausea and vomiting. You may also develop a headache, or feel abnormally fatigued. These symptoms may indicate a range of symptoms, not just salt deficiency, but the signs of hyponatremia can quickly evolve into more serious side effects.
Nervous System Effects
Your nervous system requires sodium to function, so hyponatremia can have an effect on your nerve functioning. Sodium helps your nerve cells transmit action potentials, small electrochemical signals that allow the cells to communicate with each other. Without adequate sodium, your nerve cells fail to communicate directly, leading to neurological symptoms. Patients suffering sodium deficiency may experience disorientation, seizures, or may even fall into a coma or suffer brain damage, according to the Linus Pauling Institute at Oregon State University.
Abnormal Muscle Functioning
Another possible effect of too little salt in your body is a loss of proper control over muscle movement. Each muscle within your body contains a number of connections to nerve endings, called neuromuscular junctions. Those nerves transmit signals to your muscle fibers, causing the contractions that result in muscle movement. Since sodium helps promote proper, a lack of sodium in your body can disrupt proper muscle function, causing cramping, spasms or muscle weakness, according to MedlinePlus.
Cerebral Edema
One serious possible side effect of low salt levels in your body is the swelling of your brain within your skull, called cerebral edema. The swelling increases intracranial pressure, placing excess strain on your brain tissues. The swelling may also lead to ruptured blood vessels, causing bleeding in the brain that further increases intracranial pressure. Overall cerebral edema may prove fatal, or cause long-lasting brain damage. If you suspect you're suffering from low salt levels, seek immediate medical attention to help resolve the issue.
Avoiding Salt Deficiency
Some individuals may face an increased risk of low salt levels in their body, and should remain vigilant to avoid hyponatremia. Endurance athletic training can affect salt and water elimination via sweat, and individuals that train for and perform marathons or advanced triathalons may develop salt deficiency, according to the Linus Pauling Institute. If you perform similar exercise on a regular basis, visit a physician to learn more about how to prevent hyponatremia as a result of your training.