Beef roasts are the ultimate comfort food, and since these roasts turn out best when cooked with low heat, a slow cooker is a convenient, effective way to prepare them. Whether you're nursing a cold or want a hot dinner ready when you get home from work, with a little knowledge, you can use a slow cooker to make a delicious meal.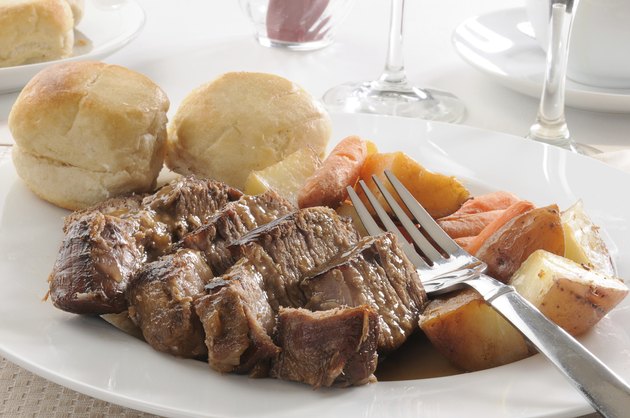 Step 1
Choose the right roast. Blade roasts come from the chuck primal, or shoulder. Several roasts come from this area, but blade roasts, which have a piece of the shoulder blade in them, are among the tastiest. Celebrity chef Alton Brown recommends choosing a roast with a large piece of bone, as roasts cut from the back of the shoulder tend to be more tender than roasts which come from farther forward.
Step 2
Season and sear. When you're ready to cook your roast, pat it dry with paper towels. Sprinkle the roast liberally with salt and paper. Then, place a large, heavy-bottom skillet over medium-high heat. Add 2 tbsp. vegetable or canola oil. When the oil shimmers, it's ready. Add the roast and cook for at least two minutes on each side, or until brown, not black. This searing step is optional, but adds a lot of flavor.
Step 3
Transfer the meat to your slow cooker. Add enough low-sodium chicken broth to cover the roast about a third of the way up. If you don't have chicken broth, you can use water. Cooking in a small amount of liquid is called braising and produces moist, tender meat. Set your slow cooker to low. How long your roast will take to cook depends on the weight of your roast, so consult your slow-cooker's user manual. As a general rule, allow 3 to 4 hours per pound of meat when cooking on low.
Step 4
Cook to temperature. Undercooked meat is a major cause of food-borne illness. You can use a probe thermometer or an instant-read thermometer to keep track of temperature. Probe thermometers are designed to remain in the meat during cooking and often come with temperature alarms to tell you when the meat is ready. Instant-read thermometers are not designed to stay inside the meat; check every half hour or so. According to the USDA, 145 degrees F is the right temperature for a medium-rare roast, while 160 is the best temperature for a medium one.
Step 5
Remove your roast from a slow-cooker to a plate, serving platter, or carving board. Cover loosely with aluminum foil and allow to rest for five to 10 minutes before carving. This allows juices to redistribute, so they won't rush out when you cut the roast. This way, your roast will keep its moisture and stay juicy. Slice thin and serve with a side of vegetables.
Things You'll Need
Blade roast

Salt and pepper

Vegetable or canola oil

Heavy skillet or frying pan (optional)

Low-sodium chicken broth or water

Slow cooker

Meat thermometer

Plate, serving platter, or carving board

Aluminum foil

Carving knife
Tip
Removing your roast when it is 5 degrees below the desired temperature will ensure the roast doesn't overcook as it rests.
Warning
Put your salt and pepper in a small bowl before you touch the roast. Touching a salt shaker or pepper grinder with raw meat juice on your hands can cause cross-contamination and make you sick.