Your baby's body makes vitamin D when exposed to sunlight, but you probably slather sunscreen on your baby when she's outside to protect her delicate skin. Healthychildren.org, a website of the American Academy of Pediatrics, recommends a vitamin D supplement, especially for breastfed babies, to prevent rickets, which is a disease characterized by softening of the bones. Speak with your pediatrician before giving your baby vitamin D drops. Further, always give the correct dose because giving your baby too much can lead to unwanted side effects.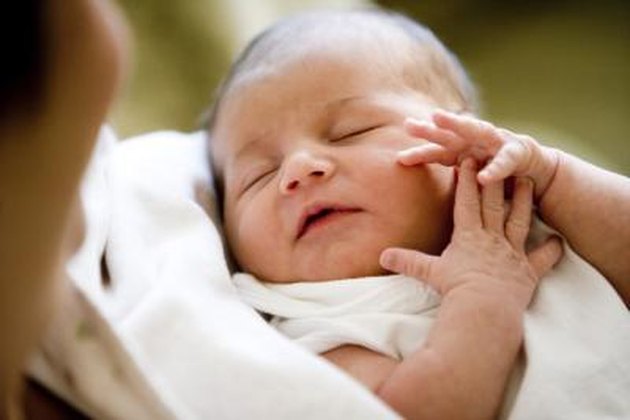 Vitamin D
Vitamin D works closely with calcium in your baby's body to build and maintain strong bones. It also regulates his immune system and cells, which may protect against cancer. Vitamin D is found in some foods, such as fatty fish, fortified milk and cereal and eggs. Aside from rickets in children, low levels of vitamin D may contribute to cancer, high blood pressure, depression and obesity. Only small amounts of vitamin D transfer to breast milk, which is why your doctor may suggest vitamin D drops for your baby.
Dosage
Breastfed babies should receive 400 international units of vitamin D daily, according to the HealthyChildren.org website. You typically find these drops in a 1 milliliter combination multivitamin or a vitamin that contains vitamins A, C and D. Vitamin D is added to infant formula so formula-fed babies do not need the drops. The exception to the rule is if your baby is taking in less than 32 ounces, or 1,000 milliliters, of vitamin D-fortified formula a day.
Side Effects
Use the dropper that comes with your baby's vitamin D drops and fill it to the recommended amount so your baby doesn't get too much. The tolerable upper limit of vitamin D is 1,000 IU for infants 0 to 6 months and 1,500 IU for infants 6 to 12 months. If you exceed this dosage, babies may experience thirst, poor appetite, weight loss, bone pain, fatigue, sore eyes, itchy skin, vomiting, diarrhea, constipation, frequent urination, muscle problems and a metal taste in their mouths.
Complications
Chronic high levels of vitamin D can also increase calcium levels, according to the Linus Pauling Institute website. Hypercalcemia is a term used to describe too much calcium in the blood. It can cause kidney stones, bone loss and calcification of organs including the heart and kidneys. Calcification is a build up of calcium in blood vessels or organs that may interfere with organ functioning.