The amount of calories you need to consume is dependent on various factors, such as age, gender, height, activity level and whether you want to gain or lose weight. It's important to know how many calories you should consume per day so that you plan your meals and activities accordingly. Following a 1,900-calorie meal plan will take practice but can become second nature once you have a good idea of the amount of calories in the foods you commonly eat.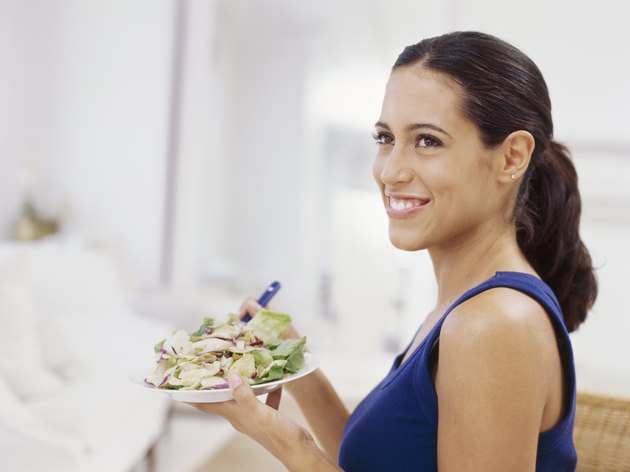 Assess Current Calorie Intake
Use LIVESTRONG.com's MyPlate tool to calculate the amount of calories you had per day for the last three days, including snacks and drinks. Add the total calories for the three days together and divide the result by three to get an average amount of calories per day. If you are currently eating and drinking more than 1,900 calories per day, then subtract 1,900 from the amount you are eating to find out how many you need to reduce.
Reduce Empty Calories
Empty calories are found in foods that are high in calories but low in nutrition and fiber. These foods tend to be less filling, so we often eat more than the required serving size. Foods that contain empty calories are soda and sweetened beverages, candy, chips and other junk foods, pastries, pies, cakes, frozen-milk desserts, sugar, honey, syrup and other added sweeteners. Evaluate your current diet for these calories and choose ways to reduce them. This will likely make a significant difference.
Substitute Lower Calorie Options
Check through your current food choices for high-fat foods and refined grain foods. High-fat foods include red meat, animal skin from turkey and chicken, dairy products, deep-fried foods, cooking oils, mayonnaise and creamy dressings. Substitute with low-fat options, such as skinless chicken and turkey; low-fat dairy products; sauteed, steamed and baked foods; herbal seasonings; mustard; ketchup; salsa and noncreamy dressings. Refined foods include white rice, pasta and bread. Use whole grains in their place. They have less calories and more fiber and nutrition per serving, which keep you fuller.
Sample Breakfast
Eat a fruit and whole-grain meal for breakfast. Eat 1 cup of oatmeal, which is 300 calories, with a tablespoon of honey, which is 60 calories; add 24 almonds for healthy protein, which is 170 calories, with about as much fruit as will make you feel full. If you eat 16 strawberries with it, your total calories for breakfast equals 620.
Sample Lunch
Eat vegetables, whole grains and a lean protein for lunch. Eat 1 cup of brown rice, which is 200 calories; stir fry 1 cup of vegetables of your choice, using 1 tbsp. of olive oil, 1 tbsp. soy sauce and spices of your choosing; toss in 4 oz. of grilled skinless chicken breast, which is 120 calories. The total calorie count for this meal is about 620.
Sample Dinner
Eat another vegetable, whole grain and lean protein meal for dinner. Make spaghetti with 1 cup of whole-wheat noodles, which is 180 calories; add 1 cup of spaghetti and meat sauce, which is about 280 calories; and 1/2 cup of green beans, adding about 20 calories. Factor in 2 tsp. of olive oil and this meal is about 660 calories.