Jumping rope is an inexpensive way to burn many calories and improve your overall health and fitness in a short amount of time. Beginner jumpers should start by practicing proper basic rope-jumping technique, and should complete at least 50 consecutive repetitions in about 30 seconds. According to the Jump Rope Institute, jumping rope is good for your brain, your bones and your cardiovascular fitness.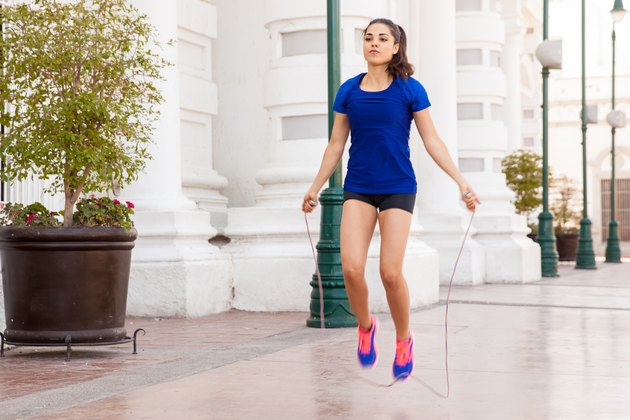 Jumping Rope Benefits
Jumping rope is a high-intensity, high-impact exercise that burns a significant number of calories and improves balance, coordination, cardiovascular health and bone density, which is important for preventing osteoporosis. Furthermore, jumping rope helps to develop both sides of your brain, which improves spatial awareness, reading skills, memory and mental alertness, according to The Jump Rope Institute.
Basic Jump Rope Technique
Start by selecting a rope that is not too long or too short. Find the proper length for you by stepping on the center of the rope and pulling the handles straight up, the handles should come close to shoulder height. Basic rope jumping starts by standing with your feet together, torso tall and your elbows bent at a 45-degree angle and tucked close to your sides. Use your wrist to rotate the rope, not your arms. Push off with the balls of your feet just high enough to clear the rope and land with soft knees.
Beginners Workout
Beginners should start out with 30 seconds of consecutive jumping or about 50 repetitions. Perform three or four sets with rest periods between sets lasting 30 to 90 seconds in duration. Gradually, increase the duration and intensity of your sets by working up to 60 to 90 seconds of jumping, or 100 to 150 repetitions with rest periods between sets lasting only 30 seconds. Complete with three or four jump rope workouts per week on nonconsecutive days.
Advanced Workout
Advanced jumpers should work up to about 20 minutes of jumping three to five times a week. Jump sets should last two to five minutes in duration, or 200 to 500 repetitions. Complete four of five sets per workout, resting 15 to 60 seconds between sets. Shorter rest periods will keep the intensity of the workout high. Furthermore, intermediate or advanced jumpers may include other strength-training or abdominal exercises during rest periods to increase the intensity of the workout.