Your body is an amazing machine that naturally rids itself of toxic substances. Many detox diets claim to prevent or cure illness, but these claims are unfounded, and no food or diet plan is going to improve your body's natural ability to detox itself. An anti-inflammatory diet reduces inflammation and may prevent damage caused by toxic substances. While inflammation itself is a normal part of your body's healing process, chronic inflammation affects healthy cells and may lead to diseases such as rheumatoid arthritis or heart disease. Eating a diet filled with nutrient-rich foods may help reduce inflammation, rid your body of harmful substances and improve your health.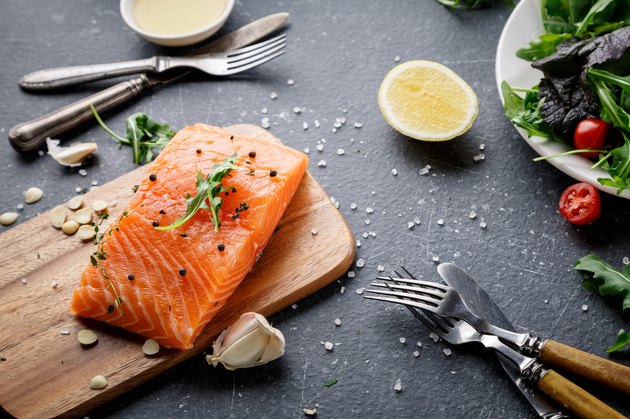 Fill Up on Fruits and Veggies
Fruits and vegetables are a rich source of essential nutrients, including vitamins A and C, potassium, magnesium and fiber. The University of Wisconsin School of Medicine and Public Health says you need 10 servings of fruits and vegetables a day on an anti-inflammatory diet. Filling half your plate with fruits and veggies at mealtimes can help you meet these recommendations. Make berries or cherries and nutrient-rich greens such as kale or chard a regular part of your weekly meal plan, says the Academy of Nutrition and Dietetics.
Max the Antioxidants
One of the reasons you need to eat so many fruits and vegetables on an anti-inflammatory diet is because they are rich in antioxidants. These nutrients, including vitamins C and E, carotenoids, selenium, phenols and polyphenols, offer protection from substances called free radicals that damage your cells and alter genetic code, increasing risk of heart disease and cancer. Eat a rainbow of fruits and vegetables throughout the week to vary your nutrient intake. You can up your intake of antioxidants by swapping out your refined-grain foods for nutrient-rich whole grains, such as oatmeal, brown rice or whole-wheat bread. Make at least half your grain servings whole grain on your ant-inflammatory detox diet.
Get Your Omega 3s
Eating the wrong fats, such as saturated fats found in bacon, stimulates inflammation. Replace those fats with omega-3 fats, found in fatty fish such as salmon, tuna and mackerel, which reduce inflammation. Aim for 8 ounces of omega-3 rich fish a week on your anti-inflammatory diet. Flaxseeds, flax oil, walnuts and leafy greens can also help you get more omega-3s in your diet.
Bulk Up With Fiber
Help your body detox by making sure you get enough fiber. Fiber in food, specifically insoluble fiber found in vegetables and whole grains, adds bulk to stool to help prevent constipation and improve elimination. Women need 21 to 25 grams of fiber a day, and men 30 to 38 grams. Fiber in food not only improves bowel function, but also helps lower cholesterol and reduces risk of heart disease. In addition to fruits and vegetables, whole grains and beans can help you meet your fiber needs.