According to the American Heart Association, up to 5 percent of people over age 65 have atrial fibrillation, which occurs when the two upper-chambers of the heart quiver rather than beat normally. Because blood isn't pumped fully out of the chambers, it can pool and form clots. When a blood clot moves and lodges in an artery in the brain, it triggers a stroke. In addition to medical care, a heart-healthy diet may help prevent stroke and other cardiovascular complications.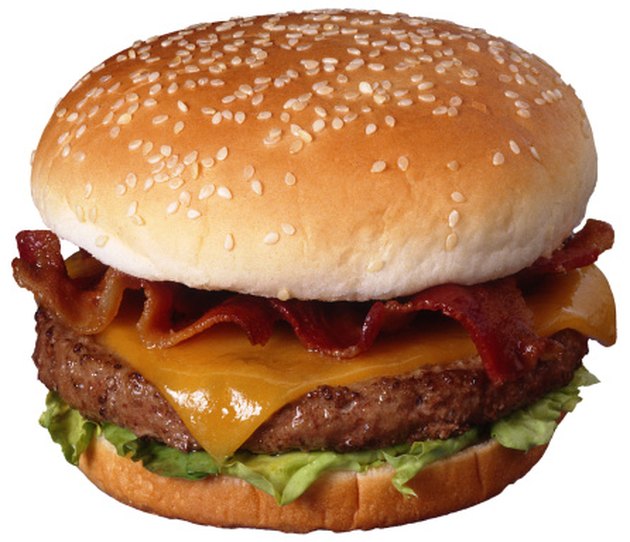 Fatty Meats and Dairy Products
In 2002, the Physicians Committee for Responsible Medicine began an online registry to identify people who may have experienced adverse health effects as a result of high-protein, low-carbohydrate diets, which tend to be high in saturated fat and cholesterol. As of December 2003, 429 people reported problems, 33 percent of which involved cardiovascular problems including atrial fibrillation, artery blockage and an increased risk for stroke. To maintain modest saturated fat and cholesterol intake and lower your risk for cardiovascular events, choose lean protein sources, such as beans, lentils and fish, over fatty meats and dairy products most often. Meats particularly high in fat include organ meats, beef, lamb, sausage, dark-meat poultry, fried chicken and bacon. High-fat dairy products include whole milk, heavy cream, ice cream and full-fat cheeses.
Salty Foods
Salt is the main source of sodium in the American diets. While sodium plays an important role in human health by managing fluid balance, excessive intake increases the workload on your heart, making it more difficult for blood to flow freely. If you have atrial fibrillation, a high-sodium diet may magnify your current risks. Particularly sodium-rich foods include table salt, canned foods, frozen meals, soy sauce, pretzels and crackers. To lower your sodium intake, eat primarily whole, natural foods, which typically supply enough sodium, and cut back on processed foods. Low-sodium seasoning alternatives include natural herbs, such as oregano, basil and garlic, lemon juice and low-sodium salt blends.
Refined Grains
Grains provide glucose, which is your body's main dietary source of energy. To prevent strokes, the University of Minnesota Medical Center recommends emphasizing fiber-rich foods in your diet. Compared to whole grains, such as oats, barley and brown rice, refined grains contain little fiber, protein or nutrients. Whole grains also promote appetite and weight control, which is important for guarding against cardiovascular conditions. For best results, choose whole grains instead of refined grain products, such as white bread, instant rice, enriched pasta and baked goods made with white or baking flour.
Sugary Sweets
Commercially-prepared sweets, such as pastries, cakes, cookies and candy, are typically high in calories and low in fiber and nutrients. Items that contain hydrogenated vegetable oil contribute trans-fats to your diet, which may increase your risk for stroke, according to the University of Maryland Medical Center. To avoid this risk, limit the amount of sugar you add to beverages and other foods and choose fresh or frozen fruits or whole grains instead of commercial sweets most often.