Muscle tension in your neck can make your day unbearable. A tight muscle in the neck can occur by twisting your neck, exercising too vigorously, sleeping with your neck in an uncomfortable position or slouching while you work or watch TV. Instead of suffering with your sore neck, use home remedies to alleviate your pain. Consult your doctor before trying any home remedy for neck pain -- in some cases, a sore neck may be the sign of a serious injury.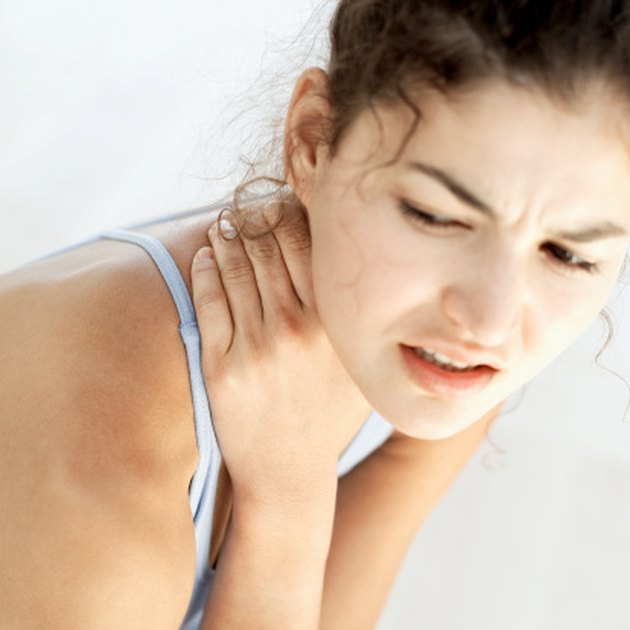 Ice
Placing an ice pack or other cold object on your sore neck may help loosen tight muscles, reduce swelling and numb muscle pain. Wrapping a handful of ice in a towel or placing an ice pack wrapped in a towel directly on the irritated area for 20 minutes every hour may soothe the pain and loosen the muscle. Repeat as needed to reduce the pain, alternating with heat if desired.
Heat
If an ice pack is ineffective, applying heat to your stiff neck may loosen the muscles and soothe them. Fill up a hot-water bottle, or rinse a washcloth with hot water. Test the temperature with your fingers before applying it to your neck. Place the warm compress on your neck for several minutes. If it makes the area more painful or swollen, stop using it immediately. If the heat makes the pain feel better, hold it on your neck for 20 minutes. Alternately, take a hot shower to alleviate neck tightness and pain.
Massage
When your neck muscles are stiff, massaging them gently may loosen them up. Ask a friend to apply gentle pressure to the sore areas of your neck, using his fingers to work out any sore spots. If you can reach the sore area yourself, massage your own neck by carefully kneading the tense areas until they loosen up.
Stretching
Performing gentle stretching exercises will slowly reduce tension in your tight neck muscles. Relax your neck until your chin droops down to your chest. Hold this position for several seconds, then bring it back up to the starting position again. Tilt your right ear to your right shoulder, keeping your shoulders relaxed, then tilt your left ear to your left shoulder. Repeat as necessary throughout the day to release the tension you are holding in your stiff muscles.
Is This an Emergency?
If you are experiencing serious medical symptoms, seek emergency treatment immediately.