Exercise can cause certain hemorrhages. The severity and dangers associated with the hemorrhage depends on the type of hemorrhage you are experiencing. Strenuous exercise places significant strain on your body that, though uncommon, can result in your blood vessels bursting, causing a hemorrhage. You can lower the risk of a hemorrhage occurring by following certain guidelines while exercising. See your doctor immediately if you experience symptoms of a severe hemorrhage.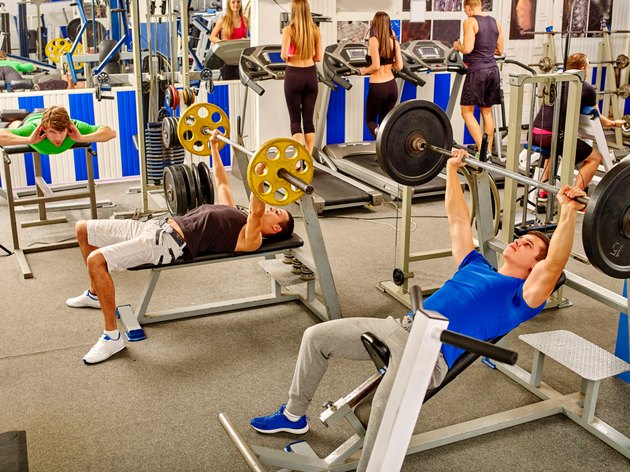 Subarachnoid Hemorrhage
In some, strenuous exercise spurs exercise headaches. While most exercise headaches -- known as primary exercise headaches -- are no cause for concern, secondary exercise headaches can be caused by an underlying medical condition, including a subarachnoid hemorrhage. A subarachnoid hemorrhage is a dangerous and potentially life-threatening condition that requires immediate medical attention. The hemorrhaging takes place in the space between the brain and the membrane that covers and protects the brain. Hemorrhaging can begin during or after strenuous exercise.
Symptoms
Differentiating between a primary exercise headache and a secondary exercise headache can be challenging, as many of the symptoms are the same. In both instances, you may experience a pounding or throbbing that affects both sides of your head. A secondary exercise headache can be identified by additional symptoms though, including double vision or neck rigidity. It is also possible that the headache causes you to become nauseous and vomit. In extreme cases, a loss of consciousness is possible. Another indicator of secondary exercise headaches is the duration of the headache. Typically, secondary exercise headaches last a day, but can potentially last several days.
Treatment
If your doctor diagnoses you with a subarachnoid hemorrhage, you may need surgery. The ruptured blood vessels are restricted by a metal clip during the invasive procedure, which keeps the brain aneurysm from hemorrhaging again. If surgery is deemed too risky for your condition, your doctor may recommend an endovascular embolization. During this procedure, a tube is inserted through your groin to your brain. The tube delivers coils to the aneurysm, which causes the blood to clot, thereby reducing blood flow.
Subconjunctival Hemorrhage
A subconjunctival hemorrhage, also known as red eye, occurs in the white of the eye. Strenuous exercise, such as lifting heavy weights, can cause small blood vessels in the bulbar conjunctiva -- the white of the eye -- to burst. The strain of lifting weights builds pressure in your head, which can trigger hemorrhaging. Subconjunctival hemorrhages pose no serious health risk and usually clear on their own. Proper breathing technique can help reduce the chances of your blood vessels bursting. Never hold your breath when lifting heavy weights. Breathe continuously to help regulate the pressure that builds in your head when straining.