Apple cider vinegar, cayenne pepper and cinnamon are all used as flavorful culinary ingredients. All three are also touted for their beneficial health effects. Cider vinegar, cayenne and cinnamon are each high in nutrients, though each has a different nutritional profile. Alone or in combination, these three products will increase other food's flavor and healthful nutritional content.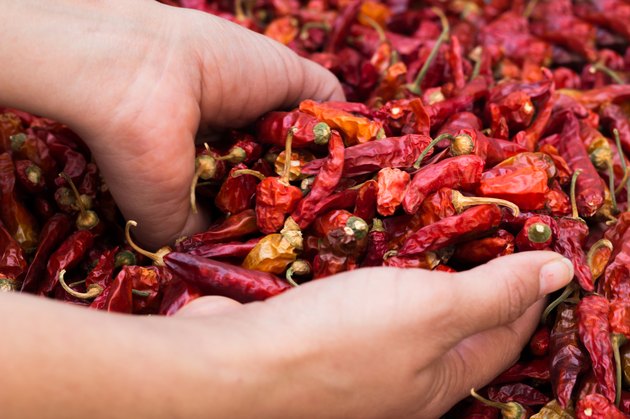 Apple Cider Vinegar
Apple cider vinegar is high in beneficial minerals, particularly iron, calcium, copper and potassium, according to the Columbia University Health Services. Organic cider vinegar is higher in nutritive content than non-organic cider vinegar that has been pasteurized and filtered, removing much of the nutritional content. In addition to bolstering dietary mineral intake, cider vinegar aids digestion as its acidity helps break down food. Cider vinegar may negatively interact with certain medications, particularly blood thinners, so consult a physician before increasing your daily consumption of apple cider vinegar.
Cinnamon
Cinnamon helps regulate serum glucose and cholesterol levels, according to the Ohio State University Medical Center. It can also aid in boosting weight loss for obese people, provided that it's not consumed on high-fat, high-calorie baked goods like cinnamon rolls but rather used to make low-fat, high-fiber nutritious foods like sweet potatoes more palatable. Cinnamon also has anti-microbial properties, according to the North Carolina State University Extension.
Cayenne
Cayenne peppers, fresh or in dried pepper flakes, may boost metabolism, causing the body to burn more fat, according to a report in "Time" magazine. Fresh hot peppers are rich in carotenoids, flavor compounds that convey numerous human health benefits from reducing risk of cancer to protecting the eyes from sun damage, according to the University of New Hamphire's Carotenoid Project. Carotenoids are higher in mature red peppers than in green varieties, according to the USDA Agricultural Research Service. Cayenne pepper also improves circulation, relieves pain and is an anti-inflammatory, according to the North Carolina State University Extension.
Flavor
Apple cider vinegar, cayenne pepper and cinnamon all pack a flavorful punch individually, and in combination they can liven up many healthy dishes yet add no fat and minimal calories. The exotic flavor blend of sour vinegar, hot pepper and sweet cinnamon blends with anti-oxidant rich cranberries and healthy-fat pecans in Don Strange's Cranberry Chutney recipe published at Yummly. Along with an abundance of other spices and heart-healthy seafood, cider vinegar, cayenne and cinnamon also feature in the Crab Cakes with Mango Salsa recipe posted by Luisa Catering of San Carlos, California at Group Recipes.