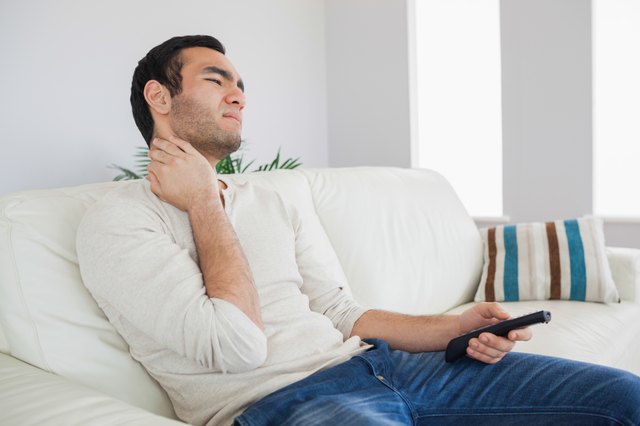 Hyaluronic acid is a type of medication used to treat osteoarthritis pain in patients who are already taking pain relievers such as acetaminophen. Hyaluronic acid is similar to the synovial fluid in your joints that your body uses to lubricate your joints and absorb shock. In order to lower your risk of possible adverse effects and reactions, you should consult your doctor before you consider getting hyaluronic acid injections.
Adverse Skin Reactions
Although not considered a common side effect, hyaluronic acid has caused skin to blister or appear discolored. The skin around the injection site may become swollen and sore after hyaluronic acid has been administered. The skin near the injection site may also become itchy, or may feel cold or like it's burning. If you are allergic to hyaluronic acid, rashes may also appear all over the rest of your body.
Muscle Pain and Difficulty Moving
Hyaluronic acid causes muscle pain or cramping after being administered, explains the University of Maryland Medical Center. Your legs may feel tingly or numb as a result of hyaluronic acid use. You will experience some degree of discomfort or pain in the knee that was injected with hyaluronic acid. Your arms and legs may also become swollen, making movement difficult. The joint pain of the affected area is supposed to be temporary, so you should consult your doctor if the pain persists.
Severe Allergy and Other Adverse Reactions
If you are allergic to hyaluronic acid, your face and throat areas will become swollen after exposure to hyaluronic acid. Severe allergic reactions will cause your throat to close, impairing breathing, says Drugs.com. Elevated heart rate and chest pain are also possible adverse reactions. Headaches, dizziness or sleepiness are also possible reactions to hyaluronic acid use.
Considerations
The medication is administered via injection into your knee joint, according to the University of Maryland Medical Center. You should avoid physical activities that put strain on your knees such as jogging, running, heavy lifting and prolonged standing after receiving your hyaluronic acid injection. You may resume such activities after about two days unless otherwise specified by your doctor, warns Drugs.com. The usual adult dose is about 2 mL into the knee once a week for up to a month. Although it is currently not known whether hyaluronic acid interacts adversely with other medications, you should nevertheless inform your doctor before taking any medications while you are getting hyaluronic acid injections.