MuscleTech offers a wide range of products geared toward helping you bulk up, including a number of protein drink powders. Some of these powdered drinks contain whole proteins, while others have single amino acids. Many also contain added ingredients such as enzymes, carbs, fat and calcium. While most people should be able to tolerate these drinks when taken as recommended, any supplement has the potential to cause side effects. Some people may experience side effects such as diarrhea, allergic reaction or weight gain. Consult your doctor before adding protein drinks to your diet.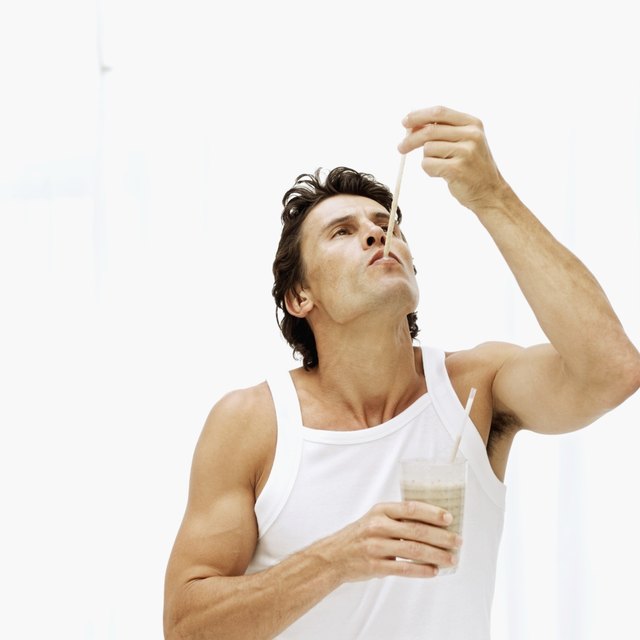 Diarrhea
While the MuscleTech protein drinks offer suggestions on when to take the supplement, not all of them offer maximum recommended intake levels to discourage you from taking too much. A 2010 article published in Consumer Reports says that consuming an excessive amount of protein powder may lead to diarrhea. You should be able to get most of the protein you need from your diet, and the National Strength and Conditioning Association suggests you limit your protein supplementation to 25 grams a day.
Allergic Reaction
If you have a food allergy, you'll want to read the ingredient list of the MuscleTech protein drinks closely. Many of these drinks contain some of the most common food allergens, including milk in the form of whey and soy in the form of soy lecithin.
It's also important to note that you can have an allergic reaction to food at any time, even a food, or supplement, that's been a part of your diet for a long time, says the American College of Allergy, Asthma and Immunology. Signs of an allergy include vomiting, stomach cramps, hives, difficulty breathing, dizziness or coughing.
Weight Gain
Weight gain might be your goal, but if you're consuming more calories than your body needs, even if you're working out hard, you may gain fat weight. Some of the powdered protein drink mixes from MuscleTech are a concentrated source of calories, such as NitroTech, which has 140 calories per scoop. The directions suggest you take 4 scoops a day, which is an extra 560 calories.
Those extra calories, if not burned off with exercise or through muscle gains, can lead to an extra 5 pounds of fat in a month.
Safety Concerns
Dietary supplements are not routinely tested for safety by the U.S. Food and Drug Administration, according to Consumer Reports, which includes regularly testing for contaminants such as heavy metals. Some MuscleTech products may contain toxic metals such as arsenic and lead, although the amounts may not be as great as that found in other protein powders, explains Consumer Reports. Limiting your intake of these products as suggested by the National Strength and Conditioning Association can help limit your overall exposure to these substances.