Porcine thyroid glandular supplements are over-the-counter nutritional supplements that are made from dried thyroid glands of pigs. People take these as a way to boost thyroid-gland function. Symptoms of a low-functioning thyroid include fatigue, weight gain, low body temperature, hair loss, constipation, difficulty concentrating, fertility problems, sleep problems, depression and anxiety. Hypothyroidism is the main thyroid problem for which people take thyroid supplements, and doctors diagnose it through thyroid hormone blood tests.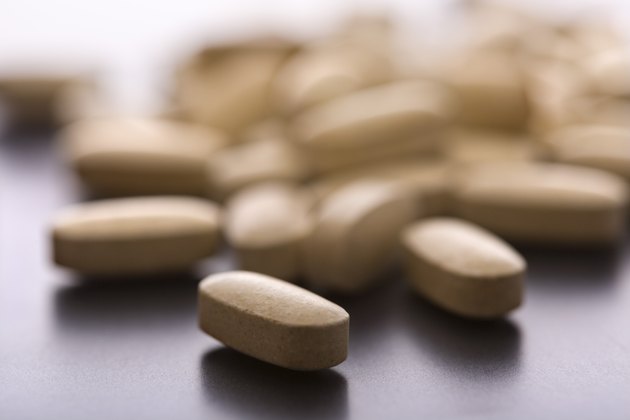 Definitions
Porcine thyroid prescription medications include Armour Thyroid, Nature-Thyroid and compounded desiccated thyroid. Porcine thyroid glandular supplements are similar in that they contain the desiccated, or dried, thyroid gland. The butterfly-shaped thyroid gland is part of the body's endocrine system and is located underneath the skin on the front of the neck, above the collarbone and below the Adam's apple. It produces thyroid hormones, which control the body's metabolism.
Supplement Forms
Several brands of porcine thyroid glandular supplements exist. One of the more popular brands is Nutri-Meds brand, which comes in both capsules and tablets. Thyroid glandular supplements usually are available in either capsule form or tablet form.
Ingredients
Porcine thyroid glandular supplements vary in terms of ingredients. The porcine thyroid dosage amount per tablet or capsule varies, and it is generally measured in terms of number of milligrams. The product label indicates the number of milligrams of thyroid supplement per capsule or tablet. Some of these supplements contain other ingredients in addition to thyroid, such as adrenal glandular components, vitamins or herbs. Many porcine thyroid glandular supplements contain various additives and binders. If you take one of these supplements, read labels carefully and, if possible, purchase a supplement that has as few additives or fillers as possible.
Sources
You can purchase porcine thyroid glandular supplements from numerous places, such as your local health food store, a natural grocery store, a natural health practitioner -- such as a chiropractor or naturopathic doctor -- and from online retailers and wholesalers. If you suspect you have a thyroid problem, such as hypothyroidism or an underactive thyroid, first consult with your doctor to have proper diagnostic testing done.
Bovine Supplements
Bovine thyroid glandular supplements also exist, which consist of dried thyroid glands from cows. Porcine thyroid supplements are more commonly used than bovine supplements. Dosages also vary among individuals.