Krill oil is similar to fish oil because it contains omega-3 fatty acids, essential fatty acids that the body needs for growth, heart health and neurological function. Krill are tiny little shrimp-like creatures that also contain omega-6 fatty acids and astaxanthin, a very power antioxidant. Omega-3 fatty acids aid in the development of the baby's neurological system and other body systems. Always consult with your midwife or obstetrician prior to taking krill oil or other supplements during pregnancy.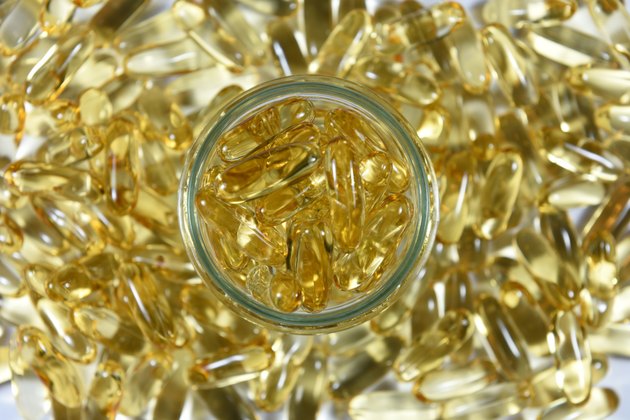 Dosage and Safety
NYU's Langone Medical Center notes that the recommended dosage of krill oil is 1 to 3 grams each day for non-pregnant individuals. Medical studies researching the application of krill oil or even omega-3 fatty acids during pregnancy are lacking, so the maximum safe dosage during pregnancy is unknown. Langone does note, however, that krill oil isn't thought to be toxic.
Krill Oil vs. Fish Intake
Eating fish during pregnancy has some drawbacks. The American Pregnancy Association explains that some types of fish contain higher levels of mercury. These fish include swordfish, king mackerel, tilefish and even canned tuna. Fish may also be exposed to a variety of pollutants that could be unsafe during pregnancy. Krill oil can be a safer alternative during pregnancy because it is purified and does not include mercury, pollutants or contaminants that may be harmful during pregnancy. However, the purification process can differ from brand to brand, so ask your physician to recommend a safe supplement.
Benefits
Krill oil and the nutrients and antioxidants included in the supplement may offer great benefit during pregnancy. Further research is needed to fully determine the benefits during pregnancy. Potential benefits include a decreased risk of preterm labor and subsequent premature delivery. Omega-3 fatty acids may lead to increased intelligence and problem-solving ability during childhood, notes the Linus Pauling Institute.
Choosing a Supplement
The most important part of choosing a krill oil supplement is speaking with your midwife or doctor first to determine brands and dosage that may benefit you. Choose a supplement that has been tested by a third party for quality and purity. If the bottle is labeled as NSF- or USP-certified, you know it has been tested and is likely to be of good quality.