Intrinsic factor, or IF, is an enzyme-like compound produced by parietal cells in your stomach. It is required to absorb dietary vitamin B-12 within your intestines. As people age, many lose function of their parietal cells, which reduces the production of IF and hydrochloric acid. Without enough IF and hydrochloric acid, anemia develops, which is a consequence of B-12 deficiency. Treatment of anemia usually involves sublingual B-12 supplements or B-12 injections, which don't rely on IF for absorption. You can also buy oral B-12 tablets with animal-derived IF, although certain side effects and problems have been observed with these supplements.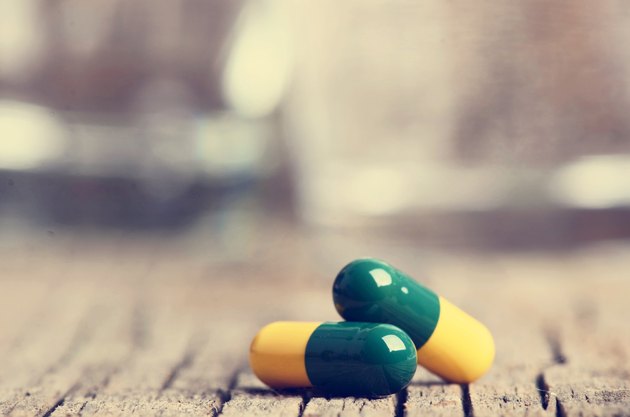 Intrinsic Factor
IF is a glycoprotein that is made in your stomach, but it doesn't bind to vitamin B-12 until it gets to your small intestine. After a few biochemical reactions, IF releases B-12 at the end of your ileum, where it can exit the epithelial cells and enter your liver for processing and storage. IF works best in a more neutral environment, not the highly acidic confines of your stomach. According to "Functional Biochemistry in Health and Disease," reduced IF production is common with aging but also related to stomach surgery, cancer, ulcers, parasites and alcoholism. Pernicious anemia causes antibodies to be produced that attack parietal cells and destroy IF, which then leads to B-12 deficiency.
Common Treatments
Lack of B-12 eventually causes serious symptoms involving malformed red blood cells, reduced metabolism and central nervous system problems that mimic Alzheimer's disease, mainly short-term memory loss, reduced cognition, depression and loss of motor skills. If you are not producing enough IF, then you cannot benefit from a low-dose oral B-12 supplement because it will not be absorbed through the wall of your small intestine. As such, regular injections of B-12 and specially formulated sublingual B-12 tablets are the main methods of overcoming an IF deficiency, as explained by Miriam Rosenthal, author of "Medical Biochemistry: Human Metabolism in Health and Disease."
Supplemental Intrinsic Factor
Some oral B-12 supplements on the market include intrinsic factor derived from animal sources, usually pigs or cows. These supplements may also contain folic acid, iron, vitamin C or hydrochloric acid. Some research involves making plant-based IF using human recombinant DNA, but IF obtained from pigs or cows is used in vitamin supplements and the Schillings test, which tests for natural IF secretion from your stomach, according to "Human Biochemistry and Disease" (Reference 3).
Side Effects
According to the "Guide to Nutritional Supplements" by Benjamin Caballero, in studies in which patients with pernicious anemia were given oral supplements containing B-12 and IF, some patients developed antibodies against the foreign IF, did not absorb the B-12 and developed moderate to severe stomach cramps. Administration of animal IF to humans is also a concern because of possible contamination or pathogenic transmission. According to "PDR for Nutritional Supplements," administration of IF with B-12 can enhance its absorption but only in low-doses, as doses far higher than physiologically normal actually impair B-12 uptake because it reduces the availability of free cobalamin. The most appropriate doses are not noted, but most supplements contain between 20 and 40 mg of IF per tablet. More studies are needed to ascertain the safety and efficacy of using animal-derived IF. Consult with your doctor if you suspect you are deficient in IF or B-12.