Herpes is a chronic viral condition that can be painful if left untreated. There are effective medications for herpes, but ginger may have properties that can help reduce symptoms of the virus. Before using ginger to treat your condition, talk with your doctor about your herpes and whether this supplement is appropriate for you.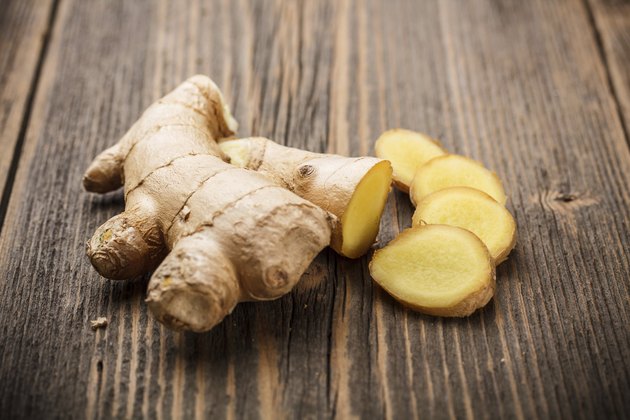 Ginger
Ginger may be most associated with helping to alleviate nausea and vomiting, but this plant has many other medicinal uses as well. It has been used medicinally since ancient times in Asian, Arabic and Indian communities, says the University of Maryland Medical Center. The root has helped treat arthritis, colic, heart conditions and diarrhea. It is also used in cooking. The University of Maryland states that daily intake of ginger should not exceed 4 grams daily; talk with your doctor about the appropriate dose for you and whether it is safe for you to take.
Herpes
The herpes simplex virus, or HSV, is a virus that can cause cold sores around the mouth, but it can also cause genital herpes, which is sexually transmitted. There are two types of herpes viruses: herpes simplex virus type 1, and herpes simplex virus type 2. These are usually written as HSV-1 and HSV-2. Many people may not have any signs of genital herpes; when symptoms do occur, one or more blisters develop on the genital area or rectum, explains the Centers for Disease Control and Prevention, or CDC. There is no cure for herpes, but there are antiviral drugs that can reduce the number of outbreaks and their severity.
Effect of Ginger on Herpes
Ginger may be a useful natural supplement in the treatment of herpes. A 2008 study in "Phytomedicine" found that ginger oil inhibited HSV-2 activity in infected cells. There was no inhibitory effect if the oil was added to the cell before HSV-2 infection. Another study, from 2007, published in "Antimicrobial Agents and Chemotherapy," found that ginger oil had an inhibitory effect on HSV-1. More research needs to be done in these areas and in human subjects, to make a definitive recommendation of ginger for herpes. Talk with your doctor about whether ginger supplements or essential ginger oil may be useful to you.
Considerations
Ginger is not meant to replace the antiviral medication your doctor may have prescribed for your herpes, and it will not cure your condition. It is meant to be a supplement to help reduce symptoms, and may not be effective for everyone. Ginger may interact with blood-thinning medications, so if you take these, consult your doctor first to see if it is safe for you to use ginger.
Is This an Emergency?
If you are experiencing serious medical symptoms, seek emergency treatment immediately.