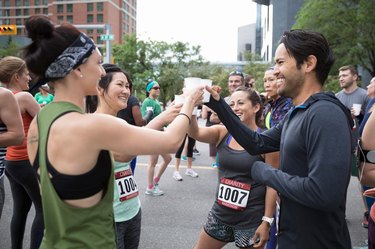 Sure, you want to look great in race photos. But choosing the right race clothing and gear for your half-marathon is about far more than fashion. Your apparel can keep you cool, free from chafing and otherwise comfortable as you go the 13.1-mile distance.
Every runner is different, and factors such as the temperature, budget and even your hairstyle of choice play a key role in your ideal race day attire, says Kate Marlin, a running coach and co-owner of Lively Athletics, a boutique in Oak Park, Illinois.
Here's how to decide what to put on before you step into the starting corral.
Get Technical With Your Fabrics
If you haven't already, ditch the cotton in favor of sweat-wicking, technical fabrics. "Cotton absorbs moisture, so it sucks it up and keeps it close to your skin," says Marlin. Shirts, shorts and socks in these fabrics can get heavy, soggy and cause irritation and blisters. Not ideal.
On the other hand, technical, moisture-wicking fabric transfers wetness away. Some are synthetic, such as polyester or nylon, but natural fabrics like merino wool and bamboo have similar properties and often feel nicer on your skin, Marlin says.
Consider the Conditions — and Your Comfort
Many runners obsessively stalk the weather report before a race — and for good reason. Temperature and humidity can make a big difference in the type, and amount, of half-marathon clothing you'll feel best running in.
Keep in mind that you'll warm up much more than if you were just casually walking. Marlin recommends dressing as if it's 10 to 20 degrees hotter than the forecast predicts. "If it's a chilly day, you are going to be cold for those first 10 minutes or that first mile," she says. "But I think of it like a trust fall — you need to trust that your body will warm up."
Generally speaking, runners who have performance in mind aim to wear the most minimal outfit possible at any given temperature, says Mike Thomson, a certified running coach at Fast & Fit Coaching in Chicago. For temperatures between about 40 and 60 degrees, many will choose shorts and a sleeveless shirt, often called a singlet. If it's 30 or below, consider capris or shorts and long sleeves.
But personal preferences matter a lot, too. Regardless of the weather, if you feel more at ease in longer shorts or a looser-fitting top, you'll likely have a better race-day experience, Thomson says.
Layer Up
Half-marathons often start early in the morning. Since you'll likely be running for at least a couple of hours, the temperature may change significantly between the time to gun fires and you cross the finish line.
For that reason, Marlin recommends clothing combos you can easily adjust en route. Example: Pair a tank top with arm warmers or gloves on a chilly morning. As it warms up, you can stash the sleeves in your shorts or toss them to a friend or family member who's cheering you on along the way. The same goes for shorts and compression socks or sleeves that cover your calves.
Another option: Wear throwaway layers you don't mind getting rid of at the start line, then toss them as you begin running. Many races will donate these items to charity, Marlin points out. Check the website of your event for details.
On days below 30 degrees, layering is still your best strategy. Start with a fitted but breathable base. If needed, add a lightweight jacket, but steer clear of waterproof or windproof outer layers unless it's very cold (below about 20 degrees). The coating that covers these pieces prevents sweat from evaporating, which can cause dampness or overheating, Marlin says.
Protect Your Head and Face
Headwear is another easy way to regulate your temperature. Stocking caps can easily get too steamy, so try a ballcap or earband instead to allow heat to escape. If it's extremely chilly, consider a neck gaiter, a tube of fabric you can pull up over your face or push down as needed. This warms up air before it hits your lungs, especially helpful if you have exercise-induced asthma, Marlin says.
Visors can keep the sun out of your face, and work well for women who wear buns or high ponytails, Marlin says. But if you have thinning hair or part your hair to the side, wearing one could leave your scalp prone to sunburn, in which case, a hat is probably a better option.
And don't forget sunglasses. Thomson has pairs with lighter lenses to block glare on cloudy days and darker shades for sunnier conditions. Not only do they protect the skin around your eyes from the sun's damaging rays, they prevent you from squinting. "Squinting causes tension in your neck and shoulders," says Thomson.
Arm Yourself with Accessories
Another thing to consider? Storage. During a race as long as a half-marathon, most runners will carry some sort of fuel, such as energy gels or chews, plus their phone. Many running shorts and pants have pockets where you can stash these items; if yours don't, you may need a separate belt or another method of toting them, Thomson says.
Half-marathons usually have several aid stations offering water and sports drinks, but you may still want to take your own hydration if it's warm out. That way, you can drink when you want, and make sure you get your preferred flavor or brand of sports drink. Some belts have places for bottles, or you can choose a handheld model.
Finally, decide whether you want to wear a watch. Runners with time goals often use a GPS-enabled device or fitness tracker to track their pace. (Warning: GPS watches don't always work well in large, urban races, where tall buildings and large crowds of runners may interfere with satellite reception.)
Test It All Out
Last but definitely not least, you need to test your gear ahead of time to make sure nothing rubs, bunches or otherwise irritates you (never try something new on race day!). Thirteen miles is a long way to deal with a tag poking your back or a too-tight waistband, Marlin says.
Ideally, you'd do a full dress rehearsal. Go for a run, even a short one, at about the same time as your event, wearing exactly the same clothing and gear you'll sport on race day. The goal is to feel calm and prepared at the starting line — not worried about the fit of your pants — and comfortable at the finish.