Sloppy joes are barbecue-style sandwiches that consist of ground beef and sauce. The canned sauce contains ingredients such as sugar, high-fructose corn syrup, preservatives and thickening agents. The beef is also usually a high-fat variety that is quite greasy. These ingredients can taste unpleasant to those who are used to a generally healthy diet made up of whole foods and homemade dishes. It's fairly simple to create healthier sloppy joes that taste better by making your own sauce and using lean ground beef, or even substituting ground chicken, ground turkey or ground bison.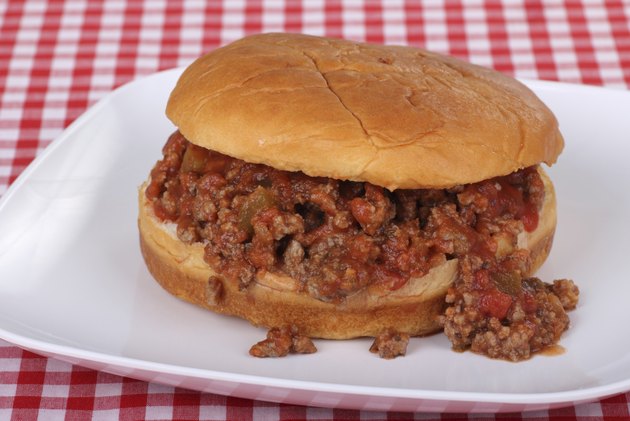 Step 1
Heat 2 tsp. of olive oil in a saucepan over medium heat. Add the diced onion and bell pepper to the saucepan and saute the vegetables until they're soft and translucent, about five minutes.
Step 2
Add 1 lb. of lean ground meat to the saucepan, and brown the meat until it's no longer pink. Lean or extra lean ground beef works well, as does lean ground turkey, chicken or bison. If you're using ground chicken or turkey, make sure the package contains only white meat. Dark meat has quite a bit of fat.
Step 3
Drain the grease from the meat and vegetable mixture. Add one 15-oz. can of tomato sauce, along with 3/4 cup of water, to the saucepan. Stir to combine and bring the mixture to a simmer.
Step 4
Stir in 1/4 cup barbecue sauce, 1 tsp. garlic powder, 1 tsp. onion powder, 1 tbsp. brown sugar and 1/8 tsp. cayenne pepper. Lower the heat to medium-low and let the mixture continue to simmer uncovered for 10 to 15 minutes until the sauce thickens and reduces.
Step 5
Season the homemade sloppy joes with salt and black pepper to taste. Divide the mixture evenly among four whole-wheat buns and consume the sandwiches immediately.
Things You'll Need
2 tsp. olive oil

Medium saucepan

1 small white onion, diced

1 small bell pepper, diced

Wooden spoon

1 lb.lean ground meat

1 15 oz. can tomato sauce

1/4 cup barbecue sauce

1 tsp. garlic powder

1 tsp. onion powder

1 tbsp. brown sugar

1/8 tsp. cayenne pepper

Salt

Black pepper

4 whole-wheat buns
Tip
When choosing ingredients for your homemade sloppy joes, make sure to avoid barbecue and tomato sauces that contain high-fructose corn syrup, artificial ingredients or excessive amounts of sodium.
To give your sloppy joes a veggie boost, add finely chopped carrots and celery to the saucepan at the same time as the onions.