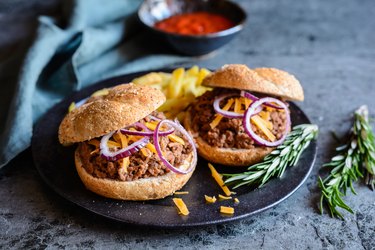 Kids of all ages, and parents, too, love sinking their teeth into a juicy sloppy Joe. If you have the time to make homemade sauce, the sandwich tastes even better. But if you're crunched for time, you can always make Manwich taste better with a few simple modifications.
List of Manwich Ingredients
Sure, some people can pop open a can of ready-to-eat food and dig in without looking at the ingredients. But if you're not one of them, there's a good chance you'll want to know the Manwich ingredients before adding this mix to your ground beef.
There are four different types of Manwich blends to choose from: Original, Bourbon BBQ, Bold, and Thick and Chunky. A 1/4 cup serving of Manwich Original Sloppy Joe Sauce has 35 calories, 0 grams of fat, 310 milligrams of sodium, 8 grams of carbohydrates, with 1 gram coming from fiber and 6 grams from sugar, and less than 1 gram of protein.
When looking at the nutrition facts, it's obvious that the sugar content is very high, especially when you consider that most recipes call for the entire can of sauce. And when you factor in the sweet stuff from your Sloppy Joe with the other sugar you consume throughout the day, there's a chance you may exceed the recommendations from the American Heart Association (AHA). According to the AHA, most women should not exceed 25 grams and men 37.5 grams of sugar per day.
Plus, the list of ingredients includes high fructose corn syrup, corn syrup, preservatives and thickening agents. That said, the Original might be the better choice when it comes to the amount of sugar. The Bourbon BBQ blend has double the calories and 11 grams of sugar per 1/4 cup serving, and the Bold blend has 13 grams of sugar per 1/4 cup serving. The Thick and Chunky nutrition facts resemble the Original blend.
Ideas for Manwich Recipes
What makes sloppy Joes taste so good is the distinct flavors that combine sweet with a bit of bold. There are several Manwich recipes on the company's website that give a fresh spin on this old classic, including pulled chicken sandwiches and turkey and bean sloppy Joes.
But if you want to make your sloppy Joes healthier and make your taste buds happy, you can always make your own sauce. It's fairly simple to create a recipe using a variety of ingredients. Since Manwich sauce is on the sweeter side, with plenty of added sugars, substituting the high fructose corn syrup and other sugars with healthier options is a great place to start.
When choosing ingredients for your homemade sloppy Joes, make sure to avoid barbecue and tomato sauces that contain high-fructose corn syrup, excessive amounts of sodium and other artificial ingredients. Many brands of barbecue sauce and now ketchup come in low-sugar varieties. If you use low-sugar ketchup, you can still add 1 to 2 tablespoons of brown sugar to give the meat a sweeter flavor. Adding salsa to the mix is another way to add flavor without adding calories or sugar.
One of the great things about sloppy Joes is that you can use any type of meat. Ground beef, chicken or turkey all work. To keep the recipe healthy, the Mayo Clinic recommends looking for meat that is lean, with the highest percentage of lean meat ideally being 90 percent or higher, with 10 percent or less fat. Consider adding finely chopped carrots, bell peppers and onions to the pan when browning the beef.