Ayurvedic herbal treatments are usually safe and well-tolerated when prescribed by a qualified and knowledgeable Ayurvedic practitioner; however, even herbal medicines can cause side effects. Some Ayurvedic preparations may also have problems with toxicity and interactions with other drugs you might be taking. Consult a medical doctor and an Ayurvedic practitioner before taking an Ayurvedic medicine or supplement.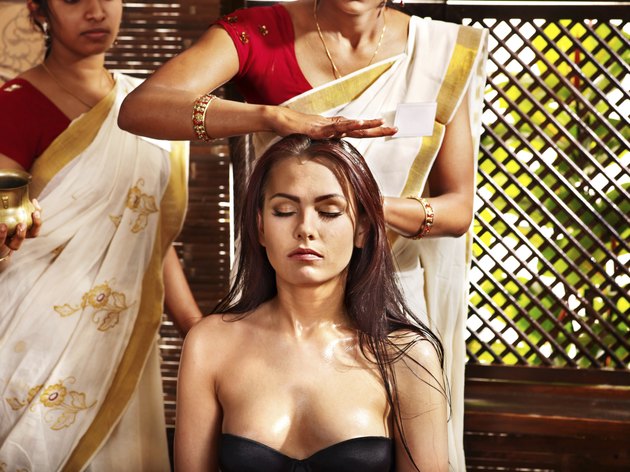 Ayurvedic System
Ayurveda is an ancient healing system originating in India that works to promote wellness with dietary and lifestyle changes and herbal medicines and supplements. Ayurvedic practitioners believe that imbalances between the doshas, or energies – vata, pitta and kapha – are the source of illness. All three doshas are present in everyone, but most people are dominated by one or two. Vata is the dosha of space and air. Vata-dominant people tend to be thin, with dry skin and hair and have a tendency toward intellectual and spiritual pursuits. Kapha is the dosha of earth and water, and kapha-dominated people are heavier in build, with oily skin and hair and loving, peaceful temperaments. The pitta dosha is related to air and fire, and pitta-dominant people are fiery-tempered, with freckled, sensitive skin and moderate, muscular builds.
Common Side Effects
Many of the undesirable side effects that can arise from Ayurvedic supplements are the result of improper use. Many Ayurvedic herbs are available over the counter, which can result in side effects in people who self-medicate without fully understanding the risks and recommendations. For example, the herbal jam chyavanprash is often used by Ayurvedic practitioners as a tonic for vitality and immune system support. Pharmacologists at the Seth GS Medical Hospital in Bombay, India, point out that one of chyavanprash's main ingredients, the sweet fruit amla, can promote tooth decay; however, this can easily be avoided by brushing your teeth after consuming the jam. The most commonly reported side effects of Ayurvedic medicines and supplements are gastrointestinal upset and headaches.
Toxicity
There may be a problem with toxicity in some Ayurvedic preparations. Because they are classified as dietary supplements and not medicines in the United States, Ayurvedic medications and manufacturers are not subject to rigorous testing and standards. The National Center for Complementary and Alternative Medicine published the findings of a study of heavy metals in Ayurvedic preparations in the "Journal of the American Medical Association" in 2004. Out of the 70 widely available Ayurvedic medicines tested, 14 contained harmful levels of lead, mercury or arsenic. These toxic ingredients can cause severe gastrointestinal side effects or even poisoning. Make sure to research the manufacturers and ingredients of all Ayurvedic preparations before taking them. Better yet, consult a qualified Ayurvedic practitioner for recommendations.
Drug Interactions
Ayurvedic supplements may interact with other medicines or supplements you are taking to cause unwanted side effects. Doctors at the World Health Organization's center for adverse drug reaction monitoring report that the Ayurvedic medicine shankhapushpi may interfere with anti-epileptic medications, and the addition of Ayurvedic herbs may be toxic to those receiving chemotherapy for liver cancer. Unfortunately, few well-regarded, clinical studies have been conducted on these potentially serious interactions. If you are considering using an Ayurvedic supplement but are worried about its side effects, speak with your medical doctor and a qualified Ayurvedic practitioner to develop a low-risk treatment plan using Ayurvedic medications from well-regarded manufacturers. Make sure to tell them about all drugs and other supplements you are taking.