If you're dealing with dandruff, you may have tried a shampoo containing selenium sulfide. Brands such as Selsun Blue, Head & Shoulders Intensive Treatment and Dandrex contain this mineral compound, as it proves effective against the skin condition that causes dandruff. Some side effects are possible when you're using selenium sulfide solutions, including hair loss.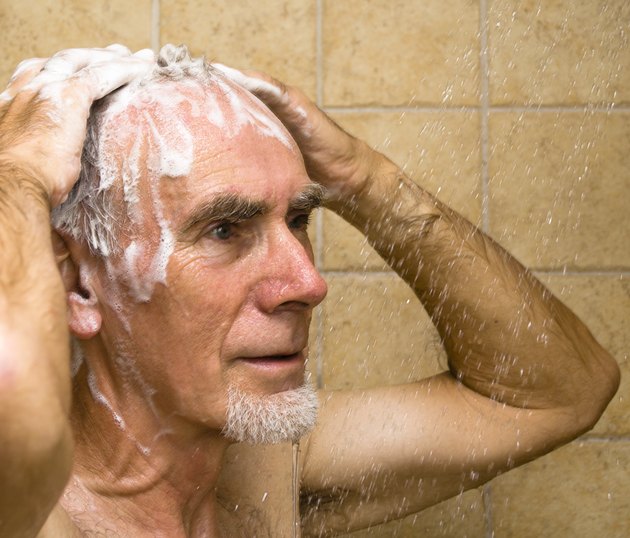 Seborrheic Dermatitis
The skin condition seborrheic dermatitis causes irritation, itching and scaling, and the affected skin may be oily. Some people experience inflammation with seborrheic dermatitis. The condition involves an increased shedding of dead skin cells, leading to an accumulation of small light-colored flakes that people call dandruff. Excess oil boosts production of the yeast malassezia, which worsens the problem.
Selenium Sulfide
The simplest remedy for seborrheic dermatitis is using a medicated anti-dandruff shampoo, according to the American Hair Loss Association. Selenium sulfide is effective against malassezia, and it slows the death of skin cells. This stops the itching and flaking and ends the accumulation of scaly particles. Selenium sulfide shampoos are available over the counter in 1 percent strength and by prescription in 2 1/2 percent strength.
Selenium Sulfide Side Effects
Although it's uncommon for selenium sulfide to cause irritation, stop using this product and consult your doctor if you develop stinging, burning or other negative effects. Selenium sulfide can cause unusual oiliness or dryness of your scalp and hair, as well as hair discoloration, particularly of blond, gray and dyed hair. Selenium sulfide also can increase your usual level of hair loss.
Usage
Some daily shedding of hair is normal. Selenium sulfide may increase this hair loss, but you might have difficulty knowing whether the shampoo is responsible, because seborrheic dermatitis also can lead to temporary hair loss in affected areas. To prevent side effects such as increased hair loss from selenium sulfide, follow the instructions carefully. Use the shampoo twice a week for the first two weeks, then once a week for up to four more weeks and then only when necessary, the New Zealand Dermatological Society recommends on its DermNet NZ website. Don't leave the shampoo on your scalp for longer than the directions advise, and rinse thoroughly to remove it all.
Other Solutions
If you experience extra hair loss or other side effects with selenium sulfide shampoos, you may need to experiment with other products. The American Hair Loss Association suggests alternating several shampoos, as each active ingredient functions differently. Other shampoos that are effective against seborrheic dermatitis may contain sulfur, zinc pyrithione, salicylic acid, tar or ketoconazole.
Is This an Emergency?
If you are experiencing serious medical symptoms, seek emergency treatment immediately.