Inappropriate amounts of calcium during pregnancy may be bad for both you and the baby, but excess calcium can also lead to dire consequences. The Food and Nutrition Board at the National Academies recommends a tolerance upper intake level, or UL, of 3,000 mg for pregnant women aged 18 and below and 2,500 mg for those 19 and above. Exposure to calcium quantities that go beyond these can disrupt the absorption of other minerals, make normal pregnancy symptoms worse and cause long-term effects on your body and the baby.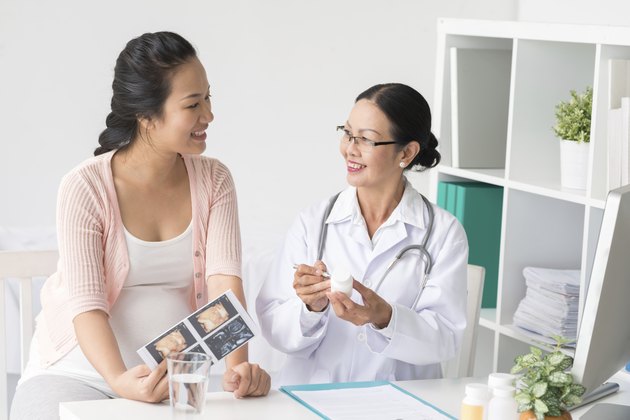 Deficiency in Other Minerals
While too much vitamin D induces an unnecessary increase in calcium intake, an overdose of calcium could hinder the amount of iron and zinc being absorbed by your body. Most pregnant women are required to take additional iron and zinc supplements because both are essential for the baby's formation. Iron is needed in the increased production of red blood cells and the proper transport of oxygen for the fetus and placenta. Zinc is essential for fertility and the healthy growth of the baby's nails, hair, skin and eyes. However, further studies on calcium's interference with the absorption of iron and zinc still need to be conducted to fully establish how gravely calcium causes this deficiency in iron and zinc.
Severe Constipation
Constipation is often experienced by pregnant women since pregnancy hormones can cause the intestinal muscles to relax and delay the processing of food in your body. Consequently, an overdose of calcium can worsen constipation because calcium carbonate can reduce the frequency of bowel movements, decreasing the urge to defecate. Moreover, calcium carbonate interferes with gastrointestinal functions that lead to the formation of gas or bloating.
Kidney Stones
Calcium can be naturally consumed through yogurt, sardines, cheese and even tofu. A serving of one of these contributes a minimal amount to the calcium intake. It is more important to watch for quantities that come in the form of fortified milk, vitamins and supplements. According to a study conducted in April 1997 by the Department of Nutrition in the Harvard School of Public Health, women who take in superfluous amounts of supplemental calcium can increase the risk of kidney stones, which are made of calcium oxalate. Dietary calcium, on the other hand, proved to have the opposite effect. This and similar studies have actually paved the way for the UL standards to be set.
Other Calcium-Overdose Effects
An overdose of calcium supplements may make certain medical conditions worse, such as diarrhea, gastrointestinal problems, heart conditions and kidney disease. In addition, it may minimize the absorption of biphosphonates that treat osteoporosis, the fluoroquinolone and tetracycline classes of antibiotics, levothyroxines that treat hypothyroidism, the anticonvulsant phenytoin, and tiludronate disodium that treats Paget's disease.