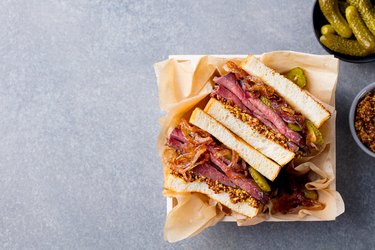 A satiating roast beef sandwich makes an easy-to-prepare lunch. It's not only a great way to use leftover roast beef, but it adds protein, fiber and nutrients to your diet. Certain spices can enhance the flavor and make your sandwich more nutritious.
Tip
Choosing low-fat condiments can help keep calories in your roast beef sandwich to a minimum. Avoid spreads that contain trans fats or high fructose corn syrup and opt for unprocessed ingredients.
Beef Up Fiber and Vitamin C
Fiber should be an important component of your roast beef sandwich to help maintain good digestive health. You need this nutrient to stay regular and maintain a healthy weight, says the Mayo Clinic. Although roast beef doesn't contain fiber, you can add whole-grain bread to boost its nutritional value.
Whole-grain bread delivers more fiber than white bread. For example, two slices of whole wheat bread contain twice as much fiber — 3.8 grams — than white bread, which has only 1.6 grams, according to the USDA.
If you normally make a traditional sandwich with slices of bread, try changing it up. Crusty wheat kaiser rolls, grainy flatbreads, pitas, sesame bagels or bread varieties containing rye, pumpernickel or quinoa all contain good amounts of fiber and go well with roast beef.
The condiments you add to your roast beef sandwich can boost its nutritional value. For example, a plain roast beef sandwich does not contain any vitamin C, according to the USDA. By stuffing it with low-calorie ingredients, such as fresh vegetables and herbs that are rich in vitamin C, you can help your immune system work better and lower your risk of disease, states the National Institutes of Health.
Some of the best condiments for roast beef sandwiches (e.g., those richest in vitamin C) include:
Peppers — all colors and types, such as sweet bell peppers, hot green peppers, serrano,

jalapenos

and banana peppers. Use them raw, grilled or sautéed.

Leafy greens — especially mustard spinach, kale, cooked cabbage, bok choy and turnip greens.

Sprouts — lentils, alfalfa, radishes and pea sprouts.

Sweet onions — red, yellow or white; cooked, caramelized or raw.

Tomatoes — red or green; raw, cooked or sundried.
The list of vegetables you can pair with your sandwich is as endless as your imagination and can significantly enhance its nutritional value.
Best Condiments for Roast Beef
When it comes to dressing up your roast beef sandwich, you have numerous choices. Although putting horseradish or ketchup on roast beef is a popular option, you can liven up your sandwich with more interesting and unconventional seasonings.
If you like to use salad dressing in your sandwich, opt for traditional mayo. Miracle Whip and other sandwich spreads typically contain both sugar and high fructose corn syrup. Good alternatives to use as a base are hummus, salsa, grainy mustard or mashed avocado.
Seasoning your sandwich with fresh or dried herbs, such as parsley, basil, coriander, rosemary and dill. will not add extra fat, calories, sodium or sugar. It will, however, increase the amount of iron, vitamins A, C and K and other nutrients, while perking up the flavor, according to the USDA.
Some Like It Hot
A hot-beef sandwich is a tasty satisfying meal, but it's important that you properly reheat the roast beef. The USDA's Food Safety and Inspection Service warns about the risks of improperly reheating leftovers and advises that meat should be reheated at 165 degrees Fahrenheit to destroy the bacteria that may cause food poisoning.
You can prepare an open-faced sandwich by covering sliced bread with hot roast beef and gravy. Spruce it up with onions, mushroom, garlic, pickles and cooked veggies, such as grilled or steamed asparagus. Top it all off with your favorite cheese.
The best cheese with roast beef can be sharp or spicy, such as blue, pepper jack or aged cheddar. But any cheese of your liking will add some creaminess to your sandwich and jack up its calcium content. Choose low-fat cheese if you're trying to cut calories. Provolone, mozzarella, Swiss and goat cheese are all great choices.
Roll It Up
In place of cooked leftover roast beef, you can also make a healthy sandwich with sliced deli beef meat. Beef, along with a variety of vegetables, is a perfect filling for a wrap using flatbread, whole wheat or corn tortillas, or pita bread.
If you choose to skip the bread, use the roast beef deli meat as the wrapping to prepare a protein-packed, low-carb roll-up sandwich. One idea is to place a slice of red pepper, avocado or tomato on a slice of deli roast beef. Top with a basil leaf and a piece of mozzarella cheese. Roll the slice of beef up tightly. Serve with carrots or cucumbers for a healthy lunch.
Be creative and use your favorite vegetable combinations for a roll-up or roast beef sandwich. Just be sure to keep any dressings low-fat and sugar-free. With so many ways to enjoy a roast beef sandwich, you can feel good knowing it's a healthy food choice as long as you make the right decisions when adding condiments.