Cardio exercise burns fat and can help reduce obesity. However, the only way to see results is to be consistent and choose exercises that place demand on your body's energy production. Weight-bearing exercise can be the most effective cardio to burn fat and lose weight. The duration of your exercise program is also a factor. If you're obese, take special precautions during exercise.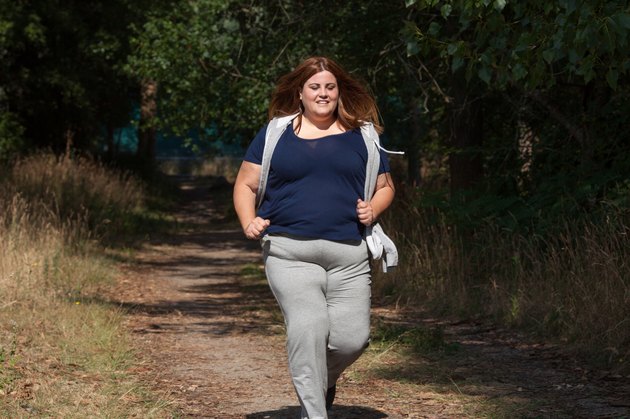 Mode
The type of exercise you choose impacts the amount of calories you burn. There are some considerations to take into account before choosing your exercise. According to Len Kravitz, Ph.D., University of New Mexico, weight-bearing lower body exercises tend to burn the most fat and calories. However, an obese person may not be able to fully participate in these kinds of exercises, such as walking or jogging for extended periods of time. Though non-weight bearing exercises, like biking or swimming do not use as much intensity or muscle involvement, they may be more sustainable. This is because they are gentler on the joints and muscles. If you are able to do non-weight bearing exercises longer than you are able to do weight bearing exercises, these may effectively burn a greater amount of fat. The main thing is to do the cardio at increasing levels of intensity, starting at low intensity, and at increasing levels of duration.
Duration
To burn a large amount of fat you also need to consider the duration of your program. When you exercise, during the beginning portion of your session, most of the energy you produce comes form stored carbohydrates. It is not until after 40 minutes of sustained exercise that your body switches to utilizing more fats than carbs.
Exercise Prescription
According to the American College of Sports Medicine, obese people should strive to burn 2,000 calories or more per week from regular exercise. Physical activity must be done between five and seven days per week at a moderate to moderately-hard intensity. Cardio exercise should last for 45 to 60 minutes once your fitness level has improved. Weight-bearing exercise, non-weight bearing exercise or a combination will work to burn fat. As long as your heart rate stays up and you work for at least 45 minutes you will be burning a lot of fat.
Precautions
If you are obese, you're at increased risk of joint injury during exercise. For this reason, it may be necessary to stick with non-weight bearing exercises until weight has been lost or fitness improves. Obesity may cause overheating during exercise. Avoid this by dressing appropriately and staying hydrated. The American College of Sports Medicine also emphasizes that regular physical activity, even without weight loss, can reduce the risk of cardiovascular disease in obese people. However, long-term maintenance of a healthy weight is highly influenced by regular physical activity.