Expectant mothers often worry about taking over-the-counter medications for fear of potentially causing harm to their developing baby. This may even include cough drops, which come in a variety of flavors and include a diverse range of ingredients. For this reason, it's always best to check with your healthcare provider before taking cough drops during pregnancy. In general, however, many experts believe cough drops are unlikely to cause harm to you or your baby.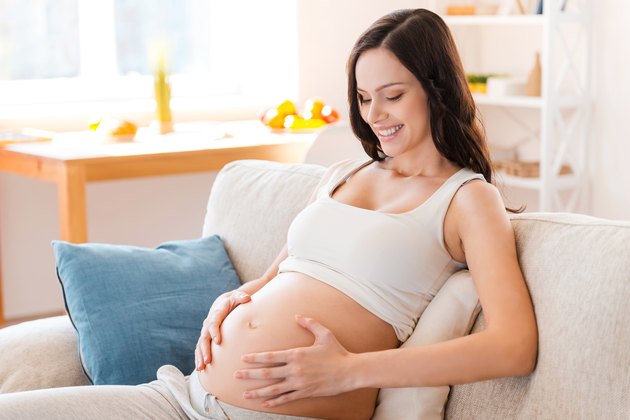 Cough Drops with Dextromethorphan
Some cough drops contain a low dose of the cough suppressant dextromethorphan, which is also in many over-the-counter cough medicines and syrups. Examples of dextromethorphan-containing cough drops include Cepacol Sore Throat and Cough and Chloraseptic Sore Throat and Cough. The dextromethorphan in these cough drops is believed to act at the cough center in your brain to suppress the cough reflex.
A study published in January 1998 in "Pediatric Research" found that dextromethorphan was associated with birth defects in chick embryos. However, some researchers question the applicability of these findings to humans. Two subsequent human studies -- published in "Teratology" in January 2001 and "Chest" in February 2001 -- found no increased risk of birth defects among women who took dextromethorphan during pregnancy.
Expert Opinion About Dextromethorphan
According to U.S. Food and Drug Administration regulations, labels for products containing dextromethorphan state that you should ask your healthcare provider before use if you are pregnant. Motherisk -- a research and information program run by the Hospital for Sick Children that provides information about the potential risks of medications and other environmental exposures during pregnancy -- reports no increased risk of birth defects associated with use of dextromethorphan. An October 2014 "American Family Physician" review of over-the-counter medication use in pregnancy also stated that dextromethorphan appears to be safe to use during pregnancy. However, the decision about whether to use cough drops containing dextromethorphan while pregnant is best made by you and your healthcare provider.
Cough Drops Without Dextromethorphan
A variety of mentholated and nonmentholated cough drops without dextromethorphan are available. Menthol has a long history of use for treating coughs and colds, although research is lacking in terms of its effectiveness. Some cough drops contain a blend of herbs. If you are unsure of the specific effects of the combination of herbs on your developing baby, consult with your healthcare provider, even if the cough drops are labeled all natural. Other common ingredients in cough drops include lemon oil, eucalyptus oil, honey and mild topical numbing medicines such as dyclonine and benzocaine. These medicines soothe the throat, which may help suppress coughing. The amount of these medicines in cough drops is very low, and many healthcare providers consider them safe for pregnant women. However, research specifically examining the safety of dyclonine and benzocaine during pregnancy is lacking, so it's always best to discuss use with your healthcare provider.
Considerations and Precautions
Although many healthcare providers green-light use of cough drops during pregnancy, it's best to check before taking any over-the-counter product. The peace of mind is worth a call to your provider, and she may have other helpful suggestions to make you more comfortable.
Coughing is often a symptom of an underlying illness, such as a sinus infection or the flu. Call your doctor as soon as possible if you're coughing up phelgm or experience symptoms that might indicate condition that requires evaluation, including: -- a fever higher than 100.4 F -- body aches -- headache -- wheezing or shortness of breath -- chest pain
Reviewed by: Tina M. St. John, M.D.