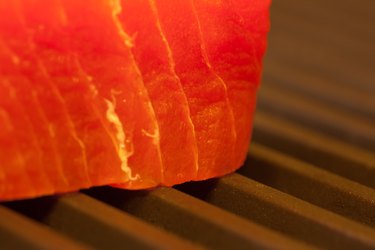 A deficiency of vitamin B12 in your diet can lead to digestive tract issues whose symptoms can include abdominal bloating and gas. Fortunately, it's possible to increase the amount of B12 you ingest through foods, supplements and prescribed injections to help alleviate the gas and bloating that a lack of B12 can cause.
Step 1
Eat foods containing vitamin B12, such as 6-1/2 oz. of tuna, 6 oz. of ground beef, 3 oz. of chicken, four eggs, two cups of yogurt or two servings of a breakfast cereal fortified with vitamin B12. Eating these amounts provides your recommended daily amount of vitamin B12 without additional sources. However, maintaining a balanced diet of foods containing vitamin B12 can provide you with your minimum daily requirement of 2.4 to 2.8 mcg of vitamin B12, according to the Office of Dietary Supplements. It can help relieve stomach gas, a symptom cause by a lack of B12, according to the United States Department of Health and Human Services.
Step 2
Take one vitamin B-complex supplement daily with each meal to help alleviate gas. B-complex contains vitamin B12 and other B vitamins. Taking B-complex avoids a vitamin B imbalance, according to the University of Maryland Medical Center.
Step 3
Visit with your healthcare provider, so he can test you for a vitamin B12 deficiency if eating foods high in B12 and taking supplements fails to relieve your stomach gas. He may prescribe daily B12 injections to help relieve stomach gas and other symptoms of vitamin B12 deficiency.
Things You'll Need
Foods high in vitamin B12

Vitamin B-complex supplement

Vitamin B injections
Tip
Speak with your doctor regarding a deficiency of B12 and your symptoms. He can prescribe a change in diet, over-the-counter supplements or a possible prescription to increase your levels of B12.