Ginger, a spice obtained from the root of Zingiber officinale, is native to southeastern Asia but now grows throughout the tropical regions of the Unites States, West Indies, China and India. For thousands of years, ginger has been used in traditional medicine in China and India to treat gastrointestinal complaints, including nausea, dyspepsia and motion sickness. Side effects are not common, but may include heartburn, diarrhea and stomach upset. This herb may also prevent or promote the formation of ulcers, depending on how it is used. Consult your physician before taking ginger to help with any health issue.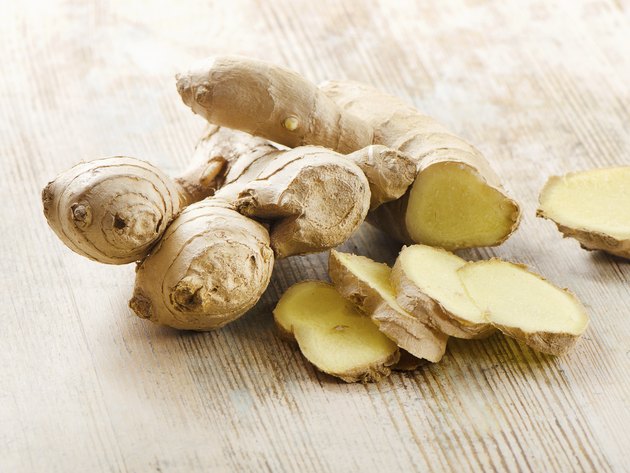 Pharmacology and Actions
The most active components of ginger root are phenol compounds called gingerols and shogaols, according to the University of Maryland Medical Center. The "Physicians' Desk Reference for Herbal Medicines" says that the herb also contains agents referred to as gingerdiols, specifically gingerenone A and B. Collectively, these compounds are attributed with anti-inflammatory, antioxidant and antimicrobial properties. The antiemetic effects of ginger are due to gingerols and shogaols. Ginger root also increases gastric secretions. According to MedlinePlus, ginger is possibly effective against post-operative nausea and morning sickness during pregnancy, but there is less clinical evidence to indicate efficacy in deterring motion sickness or seasickness.
Ulcer Prevention
A study published in the "Indian Journal of Pharmaceutical Sciences" in September 2009 shows that ginger oil protects against ulcer formation. This effect was not observed in people, but in rats. Another study published in the March 2011 issue of the "Journal of Drug Targeting" states that although the protective effects of ginger extract against ulcers is established, its therapeutic value is diminished by poor solubility.
Ulcer Promotion
Because compounds in ginger root stimulate an increase in digestive juices, the potential for stomach irritation and peptic ulcers exist. Also, the "Physicians' Desk Reference for Herbal Medicines" notes that ingestion of dried ginger root powder has been shown to increase turnover in epithelial cells in the surface of the gastrointestinal tract in humans. Since this can possibly lead to the formation of ulcers, it is recommended that ginger not be taken on an empty stomach.
Safety Precautions
The risk of ulcers increases with excessive doses of ginger. The University of Maryland Medical Center suggests taking encapsulated ginger supplements if you experience any gastrointestinal distress. However, consult your physician before using this herb if you have a history of ulcers, gallstones or a bleeding disorder. Ginger may also interact with pharmaceutical medicines, including blood-thinning drugs, anti-platelet agents, calcium channel blockers and diabetes medications.