Urinary tract infections, or UTIs, can affect one or more parts of the urinary system, including the kidneys, the bladder and the tubes that connect to them. If you're experiencing abnormal colored urine, burning urination, cramping in the lower back or abdomen or fever, you could have a UTI. Aloe vera, taken orally, may alleviate some types of urinary tract problems, but clinical evidence confirming any benefit is scant. In addition, taking aloe can produce dangerous side effects in some people. You may need a round of antibiotics to clear up a UTI, so see your doctor before self-treating with aloe or with any other herbal remedy.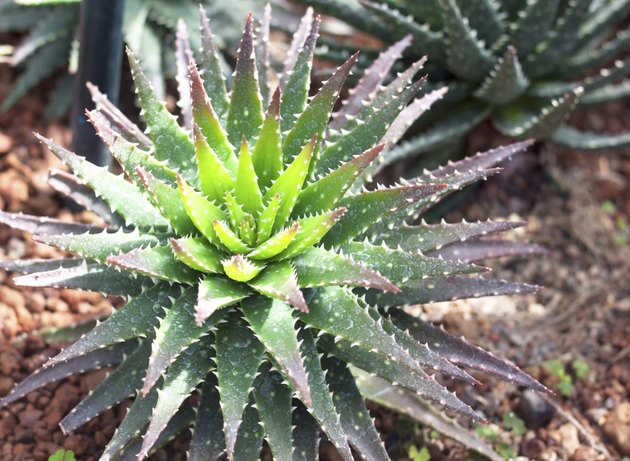 Aloe Vera
The aloe vera plant is native to Africa, although it is grown widely as an ornamental houseplant. Inside the thick succulent leaves is a clear gel, which contains fatty acids and enzymes. The gel also contains polysaccharide and acemannan, components which may be responsible for the gel's beneficial effects, according to the "Gale Encyclopedia of Alternative Medicine." The leaves feature a thin interior layer of latex, containing anthraquinones, which may be toxic if taken internally.
Effect on Urinary Tract Infections
In the 2002 issue of "Reviews in Urology," Kristene E. Whitmore, M.D., suggests that the presence of mucopolysaccharides in aloe vera might be beneficial for treating interstitial cystitis, a condition in which the patient suffers from pain in the pelvic region that includes, but is not limited to, urinary tract infections. Whitmore, however, does not suggest that aloe vera is beneficial specifically for treating urinary tract infections. Further testing is necessary before any real benefit can be confirmed.
Products
The Food and Drug Administration does not oversee the production of aloe vera products, so no standard recommended dosage is available, and there is no reputable advice on using the gel to treat a UTI. The "Gale Encyclopedia" suggests limiting internal use of aloe vera products to those labeled as "latex-free." Look for products that list aloe vera as one of the first ingredients on the label, and purchase products that have been cold-processed to minimize deterioration of enzyme activity that begins soon after the leaves are cut from the plant.
Concerns
MedlinePlus, a division of the National Institutes of Health, reports that aloe gel is "possibly safe when taken by mouth in adults." Side effects relate mostly to contamination of the gel by the leaves' latex lining, which can cause abdominal cramps, loose bowels, unintended weight loss and other serious medical conditions. Aloe may cause abortion and birth defects.
Do not take aloe for a urinary tract infection in any form if you are pregnant or breastfeeding, if you have a kidney or liver condition, or if you are diabetic. Do not give aloe to children or to anyone with an intestinal condition or hemorrhoids.
Is This an Emergency?
If you are experiencing serious medical symptoms, seek emergency treatment immediately.