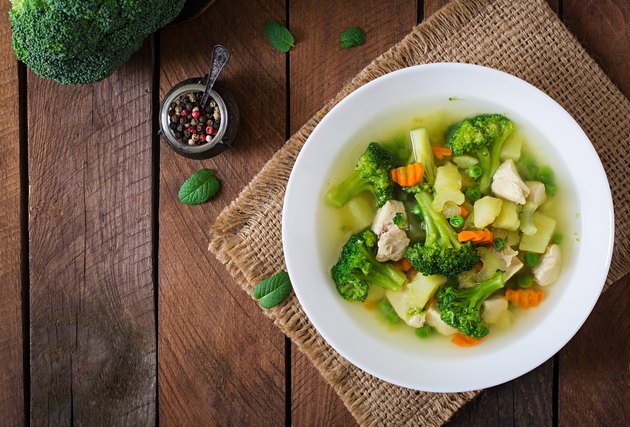 Victoria Secret model Adriana Lima is known for her commitment to her diet. Lima eats a diet of mainly meats, dairy and vegetables that works for her. Just because Lima's diet is good for her does not mean that you should adopt it as well; your dietary needs are unique. Ask your doctor or a nutritionist for help selecting your own meal plans for good health and weight management.
Lima's Diet
Lima follows a general diet plan. She told FitSugar.com in an interview in November 2010 that after trying diets on her own, from a liquid detox to just eating protein, she saw a nutritionist and now only follows a diet that is doctor recommended. She says that her diet is based on many factors. Her nutritionist performs a series of exams that checks her blood, snacks on cereal bars and shakes.
Average Day
Adriana Lima follows a general pattern for her daily diet plan. A typical breakfast for the supermodel consists of oatmeal with raisins and egg whites with a cup of coffee and milk, says Marc Lawrence, M.D. of CelebrityDietDoctor.com. Dr. Marc, as he calls himself, is a board certified physician nutrition specialist who specializes in anti-aging nutrition and weight loss. For lunch, Lima may have a small portion of meat with vegetables. Dinner is often a small salad. She might also have raw carrots or similar raw vegetables as a snack on her average day.
Considerations
Dr. Marc says in an article published in December 2008 on CelebrityDietDoctor.com that Lima's diet is working for Lima, but he advises a few changes. For example, Lima should have fewer grains and instead opt for more fresh fruit. He also says that a salad for dinner might not be enough food. Gaining weight eating salad is only a risk if you eat too much dressing. He says that most people do not eat enough vegetables, so although eating a salad is a good thing, do not make it too small. Dr. Marc advises eating at least 25 grams of fiber daily, which you can get from green vegetables.
Exercise
Diet and exercise go hand in hand for losing weight and keeping it off. Lima exercises regularly. Lima has tried indoor cycling and yoga, but boxing workouts are amongst her favorites, according to an article in July 2011 "Shape," and she says she works out every day with boxing and jumping rope. How much exercise you need to do for weight loss depends on how much you eat and what type of exercise you are doing. It doesn't have to be boxing, just some type of challenging physical activity.