A stomach virus, often called viral gastroenteritis, is an infection in your intestines that can cause a range of uncomfortable symptoms. While there's no effective treatment for a stomach virus, certain lifestyle and dietary changes might reduce your risk of developing this type of infection. Eating grapes and drinking grape juice have certain health benefits, but they're not an effective way to prevent a stomach virus.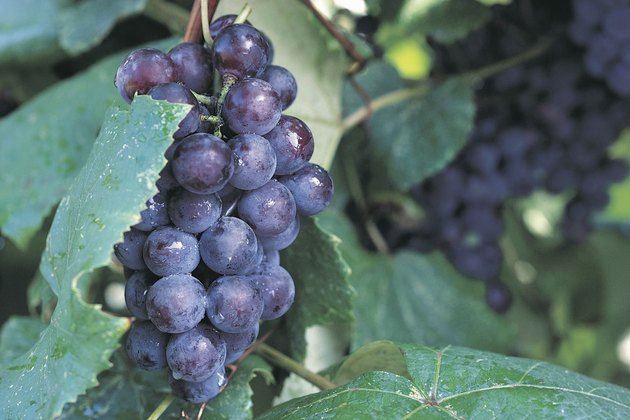 Stomach Virus
The stomach virus is often contracted through contaminated food or water or through contact with an infected person. The most common symptoms of a stomach virus are watery diarrhea and vomiting. You might also experience abdominal pain, headache, muscle aches, chills or a mild fever. Most people recover from a stomach virus without any complications, but because a stomach virus can't be treated, it's important to take steps to prevent yourself from contracting one.
Grapes and Grape Juice
Grapes and grape juice supply many important nutrients, such as vitamin C and potassium and might also have certain health protective benefits. Grape juice might reduce your risk of developing blood clots, help reduce your LDL cholesterol level, prevent damage to the blood vessels around your heart and help maintain a healthy blood pressure. The antioxidants in grapes and grape juice might also help reduce your risk of heart disease and atherosclerosis. Grapes and grape juice aren't capable of preventing a stomach virus, however.
Prevention
The most effective way to prevent a stomach virus is to wash your hands regularly. Scrub your hands with soap and water after using the restroom or changing a diaper, before eating, after spending time outside and after coming into contact with surfaces that might harbor germs, such as door handles. Consuming probiotics might also help reduce your risk of contracting a stomach virus. Probiotics are available in supplement form, but can also be found in certain foods, such as yogurt, miso and sauerkraut. Ask your doctor before taking probiotic supplements to make sure that they're appropriate for you. Avoid foods and drinks that might be contaminated and disinfect the surfaces in your home to further reduce your risk.
Considerations
There are many germs that can cause a stomach virus, and they're each highly contagious. If someone in your family has a stomach virus, don't share towels, utensils or dishes. This might help prevent the spread of the germs that cause the virus. While grapes and grape juice won't prevent a stomach virus, they're healthy sources of vitamin C. The vitamin C that grapes and grape juice contain might help boost your immune system, which might reduce the severity of your symptoms.