The thyroid gland synthesizes and secretes hormones that are responsible for regulating energy production, metabolic rate and body heat production, among other things. Thus, people with low thyroid hormone levels often experience fatigue, weight gain, cold intolerance and a variety of other symptoms. The first-line therapy for clinical hypothyroidism is levothyroxine, a synthetic version of the inactive thyroid hormone. In people with low thyroid function who do not effectively convert inactive to active thyroid hormone, taking levothyroxine may improve some, but not all, symptoms. Several supplements may be useful for supporting thyroid function, both in those taking medication and in those seeking alternatives.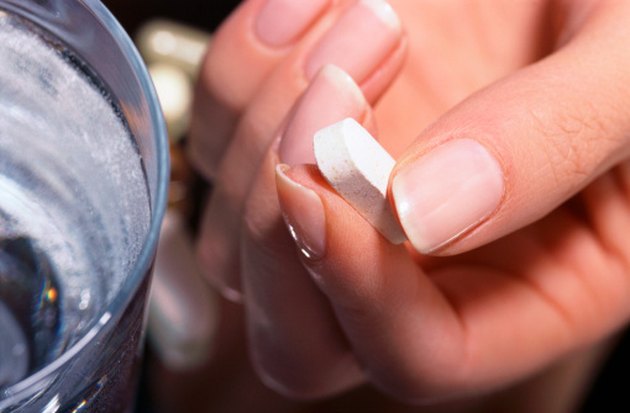 Vitamins
The B vitamins, especially riboflavin, niacin and pyridoxine (B6), are important for the regulation of the endocrine system, generally and for thyroid hormone production, specifically. A B-complex formula providing 25 to 50 mg each of the major B vitamins is useful for those with hypothyroidism. Vitamins A, C and E are also necessary for the manufacture of thyroid hormones; someone with low thyroid function may benefit from a high-quality antioxidant supplement containing these three vitamins.
Minerals
Iodine is a critical component of active and inactive thyroid hormones; indeed, the names of the thyroid hormones are based on how many iodine molecules are attached to a tyrosine base. Therefore, people with hypothyroidism benefit from iodine supplementation if a qualified practitioner determines that they are deficient. Selenium too is important for healthy thyroid function. In the December 2005 issue of "Endocrinology Review," researchers reviewed the role of selenium in thyroid health and observed that selenium-containing proteins have an important antioxidant role in the thyroid gland.
Amino Acids
As a component of thyroid hormones, tyrosine can be a useful supplement for people with low thyroid symptoms. Tyrosine may stimulate thyroid function, but supplementation with this amino acid should be undertaken with care–preferably under the supervision of a qualified practitioner. Those taking monoamine oxidase (MAO) inhibitors should avoid tyrosine, since it may cause a sudden and dangerous rise in blood pressure.
Herbs and Glandulars
Siberian ginseng may help to alleviate one of the most common symptoms of low thyroid, fatigue. A recommended starting dose is 100 to 200 mg of Siberian ginseng extract twice daily, before breakfast and before lunch. Supplementation with ginseng is not recommended later in the day, for it may result in trouble sleeping. Also, for people with low thyroid function that do not have an autoimmune component, thyroid glandular extract may support thyroid function; some may even benefit from adding hypothalamus and / or pituitary glandular extracts as well.